\
in
In the Heat of the Night
Director Norman Jewison created his directorial masterpiece with the 1967 classic
In the Heat of the Night
, a taut and sizzling drama of murder and redneck justice that won five Academy Awards including Best Picture.
Set the small town of Sparta, Mississippi, a young black police officer named Virgil Tibbs (Sidney Poitier) is sitting in a train station waiting for a train when he is arrested for the murder of a local wealthy businessman who was planning to build a new factory in town. Sparta's hard-nosed police chief Gillespie (Oscar winner Rod Steiger) is thrown when he learns that not only is Tibbs innocent of the crime, but he is a police officer from Pennsylvania who proves that the believed killer is also innocent. Tibbs is thrown when his commanding officer up north commands him to remain in Sparta and assist Gillespie in tracking down this killer.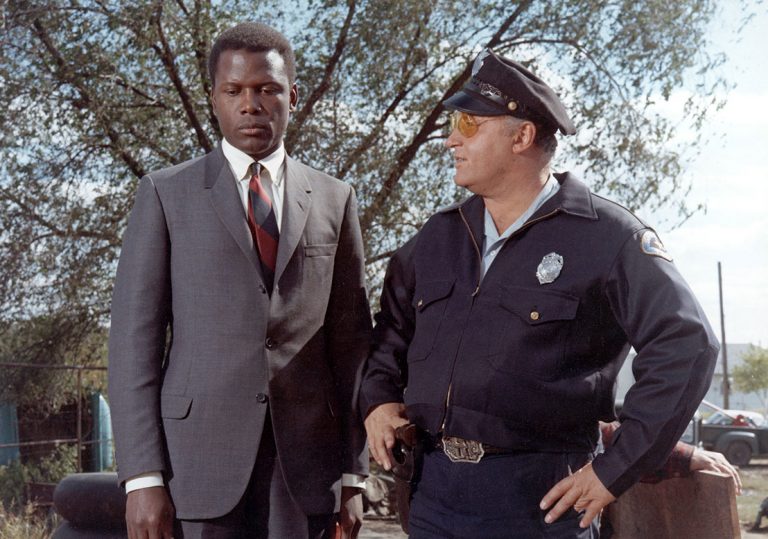 Stirling Silliphant's Oscar-winning screenplay, based on a novel by John Ball is a near flawless indictment of bigotry and the pursuit of justice and how so often one can block the path to the other. It is infuriating in 2020 to watch Tibbs be arrested immediately for the crime without a shred of evidence, but it is also was very entertaining to watch Gillespie's attitude change when he first learns that Tibbs is a police officer whose specialty is homicide.
And it is the back and forth of the relationship between Gillespie and Tibbs that becomes the center of this story, while never forgetting that there is a murder at the center of the story as well. The begrudging respect Gillespie affords Tibbs is almost hard to believe in the racially charged setting of the story, but neither Silliphant nor Jewison ever forget where this story takes place and effectively project the conflict that is going on with this Gillespie character. He respects Tibbs and his skills as a detective, but also realizes the aspect of helplessness he has in protecting Tibbs from the redneck denizens who just want Tibbs to leave town. There is a scene where Tibbs is about to get about to get beaten with chains and pipes where Gillespie stops what is about to happen but lets the perpetrators walk away. I'm not sure that a similar event would play the same in 2020.
Jewison creates an unerring tension that permeates the story throughout, creating that drippy, sweaty southern atmosphere that appropriately frames the story. The cast is perfection, topped by Steiger as Gillespie, who, after two previous nominations, won an Oscar for his intense performance as the seemingly laid back sheriff, matched scene for scene by Poitier, who appeared in another Best Picture nominee the same year,
Guess Who's Coming to DInner?
as well as
To Sir with Love
...three superb performances that were snubbed by the Academy. The wonderful supporting cast is headed by Warren Oates as a dim-witted deputy and Lee Grant as the widow of the murder victim. The film also won Jewison the second of his seven career nominations for Best Director and a Best Film Editing Oscar for future director Hal Ashby.
Grand entertainment that still packs a wallop. Twenty-one years later, the film was adapted into a television series with Carroll O'Connor playing Gillespie and Howard Rollins Jr playing Tibbs.