\
in
Bombshell
I'm not sure what I was expecting exactly, but I found 2019's
Bombshell
, a crisp and surprisingly balanced docudrama that is not just a look at the Me Too movement, but a very specific story where one particular playground became a hotbed for sexual harassment.
This movie is set at FOX news during Donald Trump's pursuit of the Republican presidential nomination, where we are introduced to FOX news chief Roger Alles and three stages of sexual harassment involving Alles and three female FOX newswomen. Megyn Kelly was harassed by Alles a decade earlier but kept quiet; Gretchen Carlson has just gone public with her harassment and was fired for it and Gretchen's assistant, Kayla Pospisil, whose desire to become an on air correspondent begins to lead her down the same road as her colleagues.
I think this movie surprised me because I was expecting a fictional composite of real life-events, a la an episode of
Law and Order: SVU
, but that's not we get here at all. Charles Randolph's take-no-prisoners screenplay is a scathing documentation of the ugliness that went on behind the scenes at FOX news and Roger Alles complete nonchalance and ignorance about what he was doing. Randolph names too many names in the course of this story for it not to be based in reality and an ugly reality it is.
The story is constructed so that we see how Alles behavior has effected three different women in three different stages of the abuse they took from this man. Randolph and director Jay Roach effectively preserve the integrity of this story by putting names to just about every character who appears onscreen and having these monikers quietly blazed next to the actors portraying them. No one gets off easy here and though there is a semblance of justice served at the film's climax, the film also makes clear the fact that Roger Alles rang bells that can't be un-rung. It's not just our three victims, but watch poor Mrs. Alles, trying to remain as loyal as she can to the man, even though we can tell she knows the truth.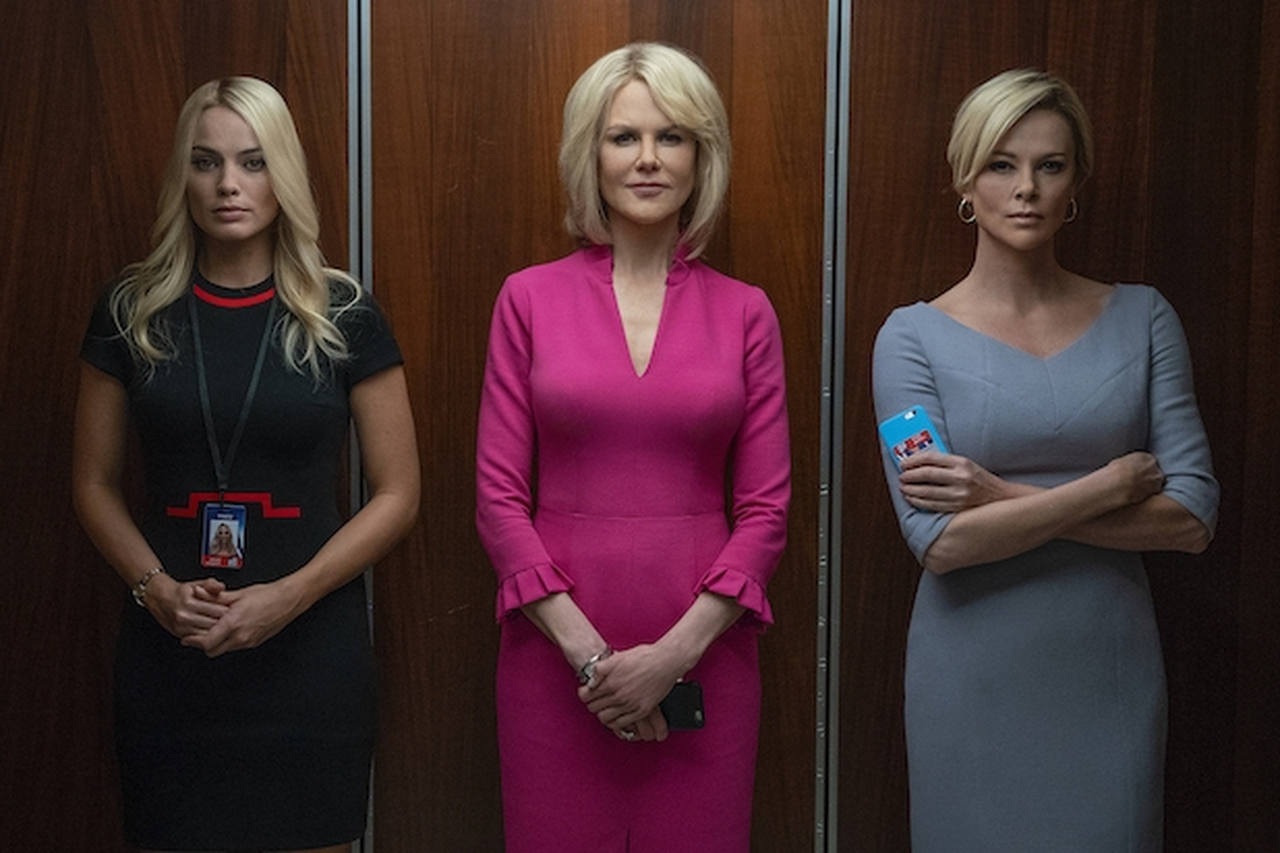 Director Roach has mounted this story with great flash and an impressive all-star cast, headed by Charlize Theron, receiving her third Oscar nomination for Best Actress and Margot Robbie, also nominated for Best Supporting Actress for her naive Kaylie. Nicole Kidman also offers an icy turn as Gretchen Carlson, as does an unrecognizable John Lithgow as Alles, a performance that should have earned him a supporting nomination. In addition to the two acting nominations, the film is also nominated for hair and makeup, which it should win because several actors are made to look completely unrecognizable here besides Lithgow. Took me almost five minutes to ID Oscar winner Allison Janney as Alles' attorney.