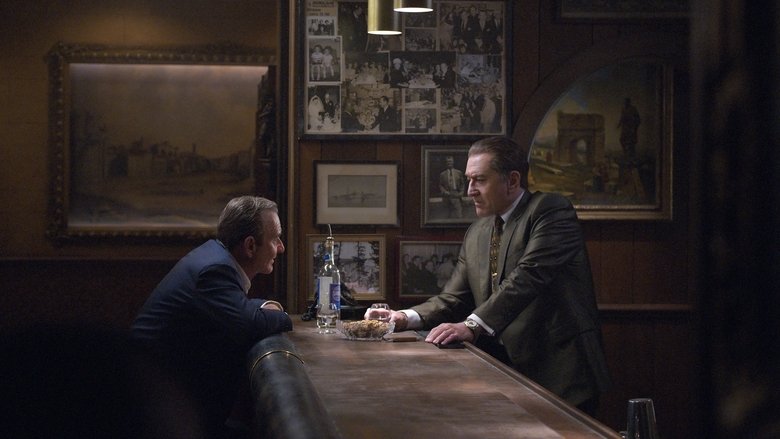 in
The Irishman
(2019)
This is a first rate production in nearly all aspects. It's chief detraction is the feeling of familiarity with the character types. There have been enough outstanding pictures where each of the main actors have played memorable Italian/Sicilian mob figures, that the tendency is to mistake the characters as cookie cutter versions of earlier dramas. The fact that neither Hoffa nor Sheeran were Italian can be lost on the audience, despite the film's title.
It would be helpful to viewers to first familiarize themselves with the Hoffa/Teamsters/mob events of the 1960s. I grew up with the Hoffa saga, and there simply was not a larger nor more familiar personality in the news, week in and week out. His press attention, his loud mouth, and his insistence on re-establishing his Teamsters authority resulted in his murder.
The tone and pace of the film were absorbing. Scorsese took Steven Zaillian's screenplay (from the book by Charles Brandt) and allowed ample time for the characters to develop their relationships-- a pleasing change from today's split second, short attention span action flicks. The cinematography by Rodgrigo Prieto --a veteran of films by Innaritu, Stone, and Scorsese-- is captivating, with perfect framing and lighting.
The heavyweight cast was a delight to watch: not only the 3 principals (DeNiro, Pacino and Pesci, along with Harvey Keitel), but a superb supporting cast including Bobby Cannavale, Ray Romano, and Stephen Graham.
Much was made of the "de-aging" of the principals. It was a detraction, more so in portraying their very early years. But from the time they were middle aged and older, the make up and styling were very effective. Granted, the scene where a 76 year old DeNiro thrashed a younger heavier shopkeeper looked fakey. However it didn't change the meaning of the action.
The period music was fitting, and helped establish the feel of the era. "In the Still of the Night", the doo-wop hit by The Five Satins was one of the best period specific songs, and is one of the all time slow dancing make-out songs. There were other memorable hits from the era, such as "I Hear You Knocking", "A White Sport Coat (and a Pink Carnation", and "Cry", to name a few.
One gets the feeling that this will be Scorsese's last "mob" type picture, and if so it's a strong and fitting way to exit the style.
Doc's rating: 8/10