\
in
Wall Street
Greed and all of its manifestations have rarely been as effectively explored than in Oliver Stones
Wall Street
, a pretentious and penetrating examination of greed during the hedonistic 1980's when there was no such thing as "enough money."
Charlie Sheen plays Bud Fox, a young and ambitious junior stockbroker who is convinced that his shortcut to the top of finance is through a ruthless corporate raider named Gordon Gekko (Michael Douglas). When Bud is finally able to get a meeting with the financial guru, he offers some stock deals for Gekko which are initially refused. Gekko then makes it clear that if Fox wants to deal with him, he has to "get" him information, not "bring" him information, which translates as inside trading, but Bud's avarice and desire to be Gekko's mentor finds him selling his soul for the man and putting the company where his father has been employed for 24 years, in serious jeopardy.
Director and co-screenwriter really put himself on the map with this expensively mounted look at corporate greed that created a new phrase that has since become part of pop culture...:Greed is Good." And greed never looked as good as it does here. During their first meeting when Gekko tells Bud exactly what he wants from him and the word "illegal" comes into the conversation, we know where this is going, but we also know that this Gekko character knows exactly what he's doing and we also know that Gekko will take him under his wing, but the screenplay is a little labored in showing the viewer exactly when Gekko begins to be a true mentor which makes the first act of this film pretty rough going.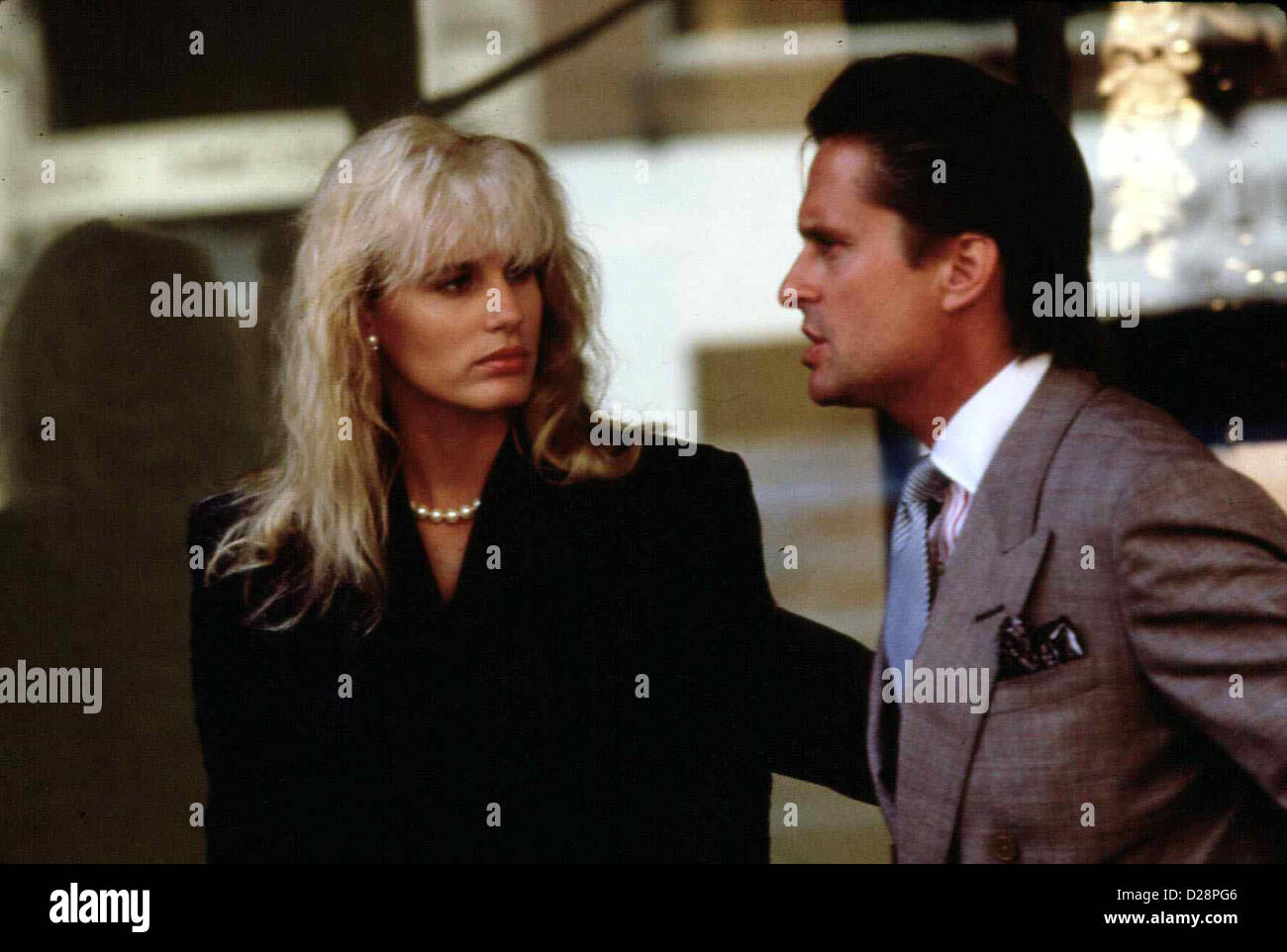 Once Bud moves from the West Side to the East Side, becomes involved with the materialistic Darien (Daryl Hannah) who is also in Gekko's pocket, not to mention being asked to spy on a rival raider (Terrence Stamp)., we know Bud is getting exactly what he wants and we also know that it's also the beginning of the end. Of course, everything that happens to Bud is actually foreshadowed in his relationship with his father...the scene where Gekko meets with Bud's father and other members of is company is terribly intense. It's implied during the denoument that Gekko gets what's coming to him, but after everything we've witnessed, it was a little disappointing to not see him in handcuffs as the credits rolled.
It takes a little while to get going, but once it does, this one really delivers, with the help of Stone's well-picked cast, led by Michael Douglas, in a dazzling performance as Gordon Gekko that won him the Oscar for Outstanding Lead Actor of 1987 and Sheen is solid as the ambitious and sincere Bud. The casting of Sheen's father, Martin, as his father here was inspired and added so much richness to their scenes together, particularly the scene in the hospital. Hal Holbrook, John C. McKInley, James Spader have supporting roles and if you don't blink, you'll catch a cameos from Danny DeVito and the director. Cinematography, set direction, and film editing are all top-notch as is Stewart Copeland's understated music. A must for fans of the director and leading man.