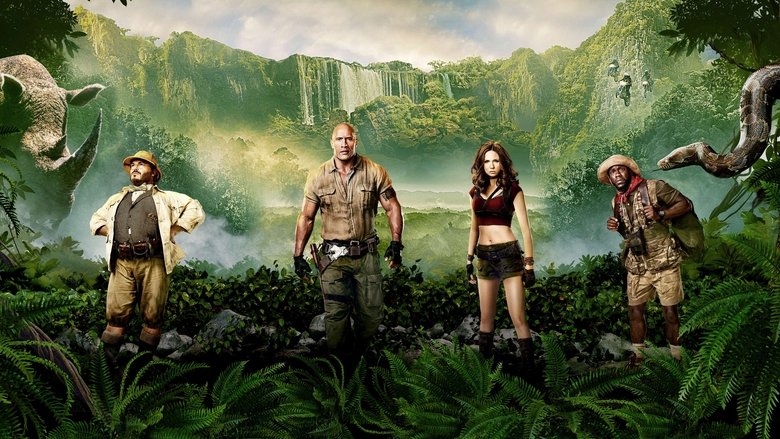 in
Jumanji: Welcome to the Jungle
(2017)
Rollicking fun, sort-of-sequel to the original, with the name of Alan Parrish (the late Robin Williams) being the only real connection to the original. At least I think---it's been a long time since I've seen the first film. We start off with a kid finding the game and taking it a friend who uses it then disappears. Years later, four kids are sent to detention and made to clean out a storage room that will soon be a new computer room. There's a nerdish kid, a football player, a vain pretty girl, and a shy pretty girl. They find the game the previous kid had and hook it up. Of course it's just a minute before they get sucked into the game for real, reappearing as the avatar/characters they chose haphazardly. The nerd becomes Dwayne Johnson's macho character, the shy pretty girl becomes the knockout beauty and badass fighter played by Karen Gillan, the football player becomes Dwayne Johnson's sidekick helper, played by Kevin Hart, and most funnily, the vain girl becomes Jack Black, a map expert. Each has to deal with their new looks and talents while still having the personalities of teens.
Lots of non-stop adventure and action, with many funny moments. My favorite funny part is when
WARNING: spoilers below
Johnson and Gillan's characters, mind you, in their new bodies, go in to kiss each other. However, their teen counterparts have never kissed so you get the hilarious visual of Johnson and Gillan not knowing how to kiss and almost completely missing each other's lips with their mouths wide open and their tongues sticking out. Great to see these two stars totally making fools of themselves.
The movie has lots of excellent visuals, game puzzles to be solved like real-life video games with lifelines, powers, level-ups, etc. All of the actors do a solid job on their characters, and the direction by Jake Kasdan (the son of famous director/writer Lawrence Kasdan) keeping things rolling along with nary a lull. A swell bit of entertainment that is more than a match for its predecessor. I give one whole bag of popcorn for Karen Gillan alone, so lovely is she!