\
in
Lucky Me
An energetic performance from Doris Day is the best thing about a bouncy musical from 1954 called
Lucky Me
that won't disappoint fans of its star.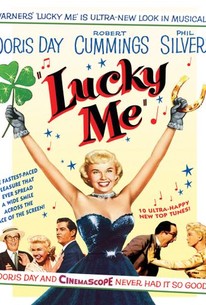 Doris plays Candy Williams, a performer in a theatrical troupe working in a Miami nightclub who gets stranded in Miami when the show folds so she and her co-stars get jobs working in the hotel that they've just been evicted from.Candy accidentally meets Dick Carson (Robert Cummings) a songwriter in town trying to get a wealthy oil tycoon to finance his new show, but when he meets Candy, he pretends to be a garage mechanic.
Dick's ruse is quickly uncovered and he falls hard for Candy and decides to use her to sell his score to the oilman, but that plan is complicated by the oilman's daughter (Martha Hyer) who has Daddy wrapped around her finger and will make sure Daddy finances the show as long as she has Dick to herself.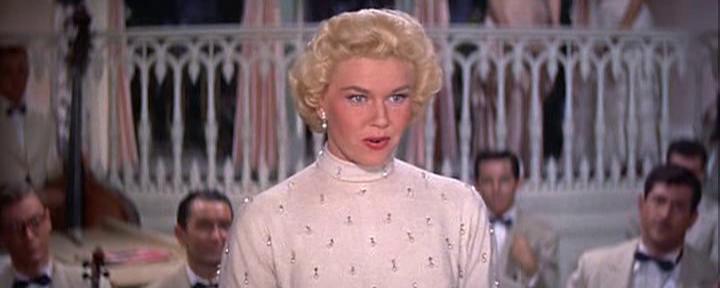 Irving Elinson's screenplay is a little complex and talky but keeps the film from just being a bunch of musical numbers with dialogue inserted. The film immediately establishes the character of Candy as being extremely superstitious, as if it is going to be a major point plot that is going to affect the requisite happy ending. Unfortunately, it becomes less and less important as the film progresses, which was a bit of a disappointment because it seemed like a rather original hook for a musical comedy.
The film features a nice if unremarkable score from Sammy Fain and Paul Francis Webster, who wrote the Oscar-winning "Secret Love" that Doris sang in
Calamity Jane
. The songs include "Men", "The Blue Bells of Broadway", "I Speak to the Stars", "I Wanna Sing Like an Angel" "The Superstition Song", and the title tune.
Cummings proves to be a charming leading man for Day and Phil Silvers, Eddie Foy Jr., and Nancy Walker are a lot of fun as the rest of Doris' theatrical troupe. If you don't blink you might also catch future
I Dream of Jeannie
co-star Hayden Roarke (Dr. Bellows) as Dick's agent. Jack Donahue's direction is a little leaden, making the film longer than it needs be, but Day fans will be in heaven.