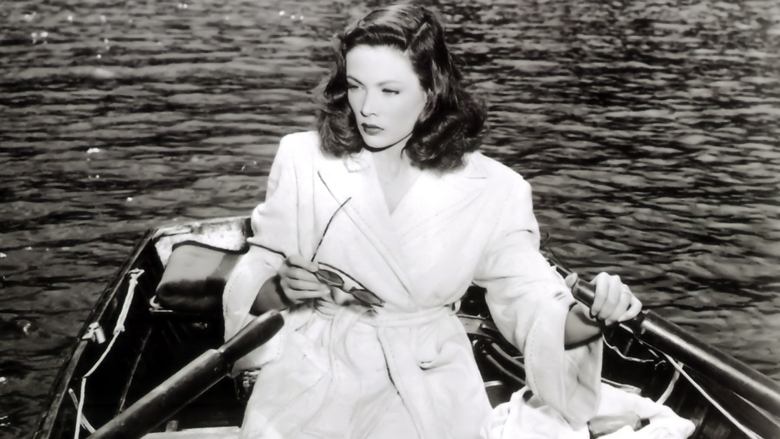 in
LEAVE HER TO HEAVEN
1945'S
Leave Her to Heaven
is a lushly mounted soap opera that will rivet the viewer to the screen thanks primarily to one of the most duplicitous and manipulative movie heroines since Scarlett O' Hara.
In flashback, we are told the story of a writer named Richard Harland (Cornel Wilde) who meets wealthy and glamorous socialite Ellen Berent (Gene Tierney) on a train while she just happens to be reading Richard's latest book, en route to meet her family in order to spread the ashes of her late father. The attraction is swift and immediate and they are married just days later, but once they are married, Ellen's obsession with Richard and desire to have him completely to herself threatens everyone else in their orbit.
Based on a novel by Ben Ames Williams, screenwriter Jo Swerling has fashioned a stylish melodrama that introduces a seemingly conventional movie heroine but then peels away her layers like an onion to reveal a woman with an almost toxic effect on the people around her and that's one of the story's greatest appeals...like a lot of great movie characters, we learn what is most important about her through limited backstory and by the way other characters react to her. The first hint is when Ellen and Richard first meet and she can't stop staring at him...we think it's because she's recognized his face from the dust jacket on the book, but it's because she claims he bears an uncanny resemblance to her late father. We see Ellen's pain as she spreads the ashes, callously disposes of the urn, and doesn't return to the house for hours. The big reveal for this reviewer that Ellen was not all she seemed to be was when her fiancee arrives to see her and she dumps him by informing him that Richard, who she has only known for hours, is now her fiancee.
Director John M. Stahl is to be applauded for one of the very rare times where allowing a story to unfold slowly is an asset instead of a detriment. Richard and Ellen initially appear to be established as star-crossed lovers and we are actually kind of excited when she lies to her fiancee to get rid of him, but when Ellen's self-absorbed and obsessive behavior quietly bubbles to the surface, we then want to slap Richard and tell him to wake up because he is the only person in the story who really doesn't see who Ellen really is. Even Ellen's own mother doesn't champion her own daughter. I love when Ellen hasn't returned from spreading the ashes and Richard is concerned and her mother dryly replies, "Nothing ever happens to Ellen."
Stahl must also be credited with his choice of leading lady and the sizzling performance he gets from gorgeous Gene Tierney, whose complete investment in this unsympathetic character earned her an Oscar nomination. My only exposure to Cornel Wilde prior to this film was the rather conventional
The Greatest Show on Earth
, so the surprisingly sensitive leading man he brought to this story was a pleasant surprise. Jeanne Crain also offers one of her strongest performances as Ellen's adopted sister, Ruth and Tierney is also briefly reunited with her
Laura
co-star Vincent Price, who figures prominently into the film's riveting climax.
The production values here are nothing short of superb. Lush color photography made a perfect background for the story. Leon Shamroy's cinematography won an Oscar and I also loved Alfred Newman's music and Kay Nelson's costumes for Tierney, which were breathtaking. If you're looking for good old fashioned 1940's melodrama, this is the place. .