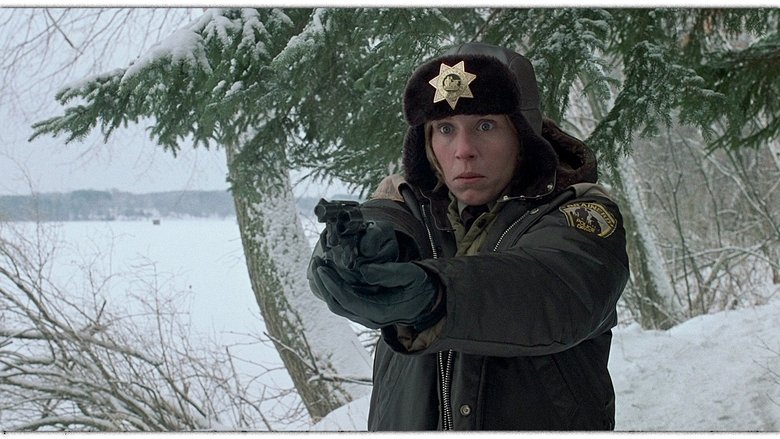 \
in
FARGO
For most fans of Joel and Ethan Cohen, they had their masterpiece with a 1996 gem called
Fargo
, a twisted and bloody black comedy filled with bizarre characters, uncompromising violence and a story that provides laughs, though you find yourself wondering if some of the laughs are appropriate.
The film introduces us to a resident of Fargo, North Dakota named Jerry Lundergaard (William H. Macy) a wimpy car salesman married to an annoying and shrill harridan and employed by her monstrous father (Harve Presnell) who, in a desperate attempt at some fast cash, hires two thugs (Steve Buscemi, Peter Storemare) to kidnap his wife so that he can collect the "ransom" but the plan goes horribly wrong.
Unexpected complications with the plan result in the involvement of Marge Gunderson (Frances McDorman), the pregnant police chief of neighboring Brainerd whose Columbo-like methods in piecing together what happened occur simultaneously with Lundergaard trying to keep his plan from completely falling apart along with the rest of his life.
The Cohens' Oscar winning screenplay is the real star here, rich with characters who are completely reprehensible or completely likable, but none are perfect. The Jerry Lundergaard character is a particularly fascinating character because from the second this character appears on the screen and opens his mouth, it's clear that nothing he says is the truth but you can also see where his deceptive nature comes from...it's also clear, more through the Cohens' direction that Jerry is in some deep financial waters that have forced him to this point. It's also clear that Jerry has not thought out this plan clearly, disregarding a lot of innocent victims here...love the moment after the kidnapping when someone asks Jerry about his son and Jerry is taken aback for a minute. We realize that when Jerry put this plan in motion that he put no thought into how it would affect his son.
Jerry is a such a smarmy character but what the Cohens have done so effectively is confuse the viewer by having this slime portrayed by the baby-faced William H. Macy with the sweet smile who almost makes you feel guilty for thinking that this guy is a scumbag. On the opposite side, we have Frances McDormand's Oscar winning performance as this small town police chief, who is given an added layer of viewer love by making the character pregnant...every time the character lost her footing in the snow, my heart stopped for a second and then there's that snow...setting this ugly story under all this snow gives it an eerily atmospheric quality that's quite intoxicating.
Kudos as well to the awesome Peter Storemare, whose performance reminded so much of a later Cohen Brothers character, Anton Chigur in
No Country for Old Men
and Steve Buscemi, explosive and funny as his partner not to mention Presnell's investment in a totally unlikable character as well. I also loved John Carroll Lynch as Marge's husband Norm and their whole marriage was a lovely little subplot that totally rang true...wish I could say the same for Marge's reunion with an unstable friend from high school (Steve Park). but for the most part, this is comedy at its blackest where, in a refreshing change, everyone actually gets what's coming to them.