\
in
Butch Cassidy and the Sundance Kid (1969)

Director
: George Roy Hill
Cast
: Paul Newman, Robert Redford, Katharine Ross
Genre
: Biography, Western, Light Comedy
About
: The mostly true story of the life and exploits of two of the wild west last outlaws, Butch Cassidy and The Sundance Kid.
Review
: The movie poster for this says,
'just for fun'
and that's the way to watch this film, for fun. Paul Newman and Robert Redford have legendary chemistry as the pair of infamous and fun loving outlaws. I suspect a lot of their on screen chemistry is due to the fact that they got along well in real life and also, the light hearted script, gave them a chance to relax and have fun. And their fun comes through the screen in oodles. I could over analyze this movie, but I'll just say it's very 1969 in it's carefree attitude and cinematic style.
There's some interesting cinematography done, especially effective is the sepia toned scene where Redford eyes shine out of the shadows. It looks better in the movie, than it does in this photo.
One of the biggest songs of 1969 was played during the charming bicycle riding scene...the song was Raindrops Keep Fallin' On My Head.
Both Paul Newman and Robert Redford are a blast to watch here, but female co star, Katharine Ross is no slouch either. She helps to ground the boys and by her being the sensible one, the boys then look even more wild and crazy than if she hadn't been cast.
The movie is one iconic scene after another. There's never a dull moment and for a 1969 film it's rather fast paced, but not too fast. Who can forget the jump of the cliff scene?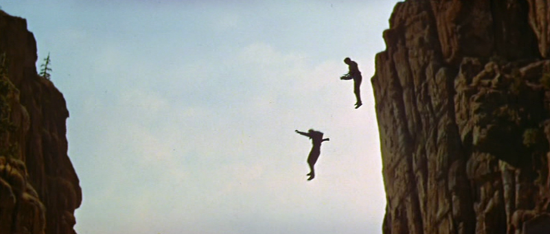 Butch Cassidy and The Sundance Kid
is a
kick in the pants
western. Yahoo!