\
in
Picnic at Hanging Rock (1975)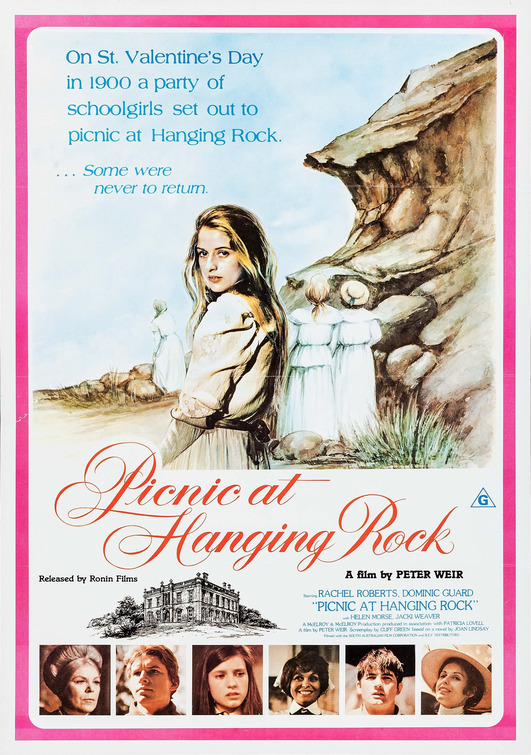 Description:
"Picnic at Hanging Rock" is an Australian film set during the Victorian times on St. Valentine's Day, where three young girls and a teacher disappear without a trace while on a school picnic at Hanging Rock, Victoria, leaving the worried town desperately trying to solve the mystery.
Thoughts:
Based on Joan Lindsay's novel of the same name, "Picnic at Hanging Rock" manages to turn an ordinary girls school summer picnic, into a dreadful and haunting disappearance case that you sure want to help and solve.
My favourite part of the experience is listening to the music that flowed very well with the occurring events, which consisted of classical pieces from legendary composers such as Bach, Mozart, Beethoven and Tchaikovsky, not to mention, the haunting panpipe music and other original compositions.
I'm a huge fan of slow burns and I found myself shocked at how bored I was during the second act of this film, where it kinda lost me for a while, and the reason for that was because of how uneventful and unexciting everything was. Another downfall is the fact that some of the actors miserably failed at their job, whenever some sort of emotion is supposed to be projected. There is also an annoying scene where the search party keeps calling for only two people, when there are four missing ladies.
The biggest attraction of this movie is its mystery and how uniquely well it is done, you crave and crave for answers and none of them are given to you without your own efforts and work, and I always like it when the makers trusts the audience by not spilling to them all of the film's guts.
The costumes add a lot to the realism of the time period, while also being the director's way of subtly conveying hints that help at clearing our foggy vision. And the cinematography is as expected, remarkable, the cinematographer manages to make a what is supposed to be a beautiful place and landmark, into a sinister location.
Rating:
Despite its errors, this is a visually beautiful movie with a lot of originality and a haunting mystery case that will leave you puzzled....in a good way. This is a high Matinee.