\
in
AFFLICTION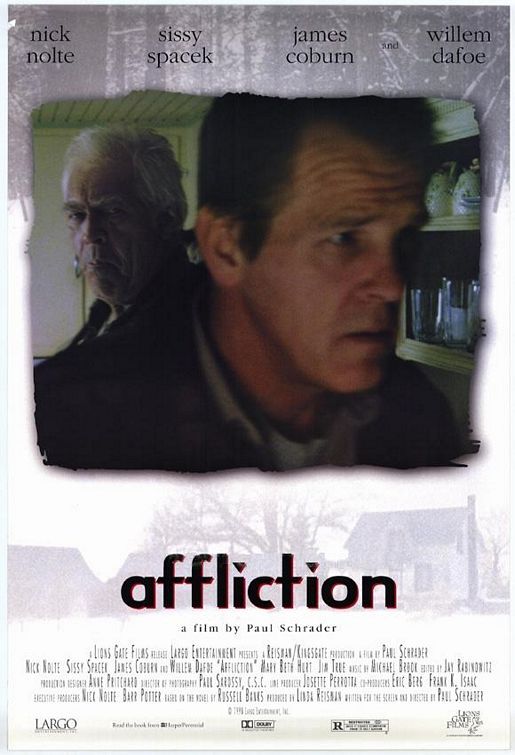 1997 was a pretty important year in film which found a lot of strong movies crumbling under the shadow of
Titanic
and
LA Confidential
and one such film was
Affliction
, a gripping character study effectively melded with an intriguing murder mystery that rivets the viewer to the screen, thanks primarily to some powerhouse performances.
Nick Nolte was nominated for Outstanding Lead Actor for his explosive performance as Wade Whitehouse, the alcoholic sheriff of a sleepy New England town who is simultaneously trying to maintain a relationship with his daughter, remain civil with his ex-wife (Mary Beth Hurt), and keep the current lady in his life (Sissy Spacek) happy. He is also placed smack dab in the middle of a mysterious hunting accident involving his good friend and co-worker Jack (Jim True) and trying to resolve unaddressed issues with his abusive, alcoholic father (James Coburn).
This film draws us in from the opening frames, perfectly projecting small town sensibilities, rich in atmosphere and that sense of a town where everyone knows everyone. Director and co-screenwriter Paul Schrader has built a beautifully complex but human lead character in Wade, a man struggling to overcome his personal demons and not always succeeding and often doing all the wrong things for all the right reasons...our heart goes out to Wade as he struggles to make his daughter happy and remain a viable part of her life and every time he fails, we understand when he tries to blame his ex-wife.
We also understand the demons of Wade's past which are introduced early on in the story via childhood flashbacks where it is clear that Wade's father has left permanent scars on Wade and his brother, Rolfe (Willem Dafoe)that may or may not be irreparable but it is also clear that Wade will never be the man he should be until he deals with them in one way or another. We watch as Wade's avoidance of these issues and his growing obsession that friend Jack is guilty of murder are somehow going to be the root of his downfall.
This film offers no easy answers, but we keep watching because we want to find some, thanks primarily to Nick Nolte's extraordinary performance that evokes constant attention and unabashed sympathy. The late James Coburn, one of our industry's most underrated actors, was finally given the role of a lifetime and killed it, winning the Oscar for Outstanding Supporting Actor. Coburn's uncompromising performance playing this completely unsympathetic character is a one-man acting class.
Admittedly, the film doesn't offer a lot in the way of surprises in terms of story, and having Willem Dafoe's character serve as narrator doesn't really make sense because he is such a peripheral character, but what it does offer is some riveting direction and a group of actors working at the top of their game.