in
THE ARTIST
I discovered I have recently been overusing the phrase "strikingly original" after my viewing of a remarkable piece of filmmaking called
The Artist
, a 2011 masterwork that became the first silent film to win the Oscar for Best Picture, as well as four other awards. In addition to being "strikingly original", this film is also funny, stylish, heartbreaking, profoundly moving, running roughshod over my emotions as an elegant valentine to Hollywood and the art of filmmaking, proving that film can stir emotion with minimum dialogue and maximum soul.
The film stars French heartthrob Jean Dujardin as George Valentin, a silent movie matinee idol at the height of his career in late 1920's Hollywood who meets an aspiring starlet named Peppy Miller (Berenice Bejo) and though there is an immediate attraction between the two, it is also clear that for both of these people put their careers first, which experience a serious and irreparable fork with the advent of talking pictures, which George initially dismisses as a fad that will fade, but Peppy embraces and runs with. In true Hollywood fashion, George's career begins to crumble while Peppy becomes a huge star but never forgets George, who though he will always have feelings for Peppy, can never truly accept the fact that she is now a bigger star than she is. The plot does sound familiar, but the hook here is that everything that happens in this film is done with absolutely no dialogue.
The last time I saw an actual silent movie released theatrically was Mel Brooks' 1976 comedy
Silent Movie
, which was a parody of the filmmaking technique. This film is not a parody, it is an homage, a loving homage mounted in elegant and sophisticated fashion that is true to the film technique for most of its running time. I had resisted this film for awhile because knowing it was silent I knew it would require reading and I hate reading at the movies. It is initially unsettling that the title cards with the dialogue are actually in French, but very quickly into the story this becomes completely irrelevant. Writer and director Michel Hazanavicius has clearly done his homework, understands the art of silent film and makes everything that happens on the screen crystal clear and the inability to read French becomes a non-issue and for this alone, Hazanavicius deserved the Oscar he won for Outstanding Achievement in Direction.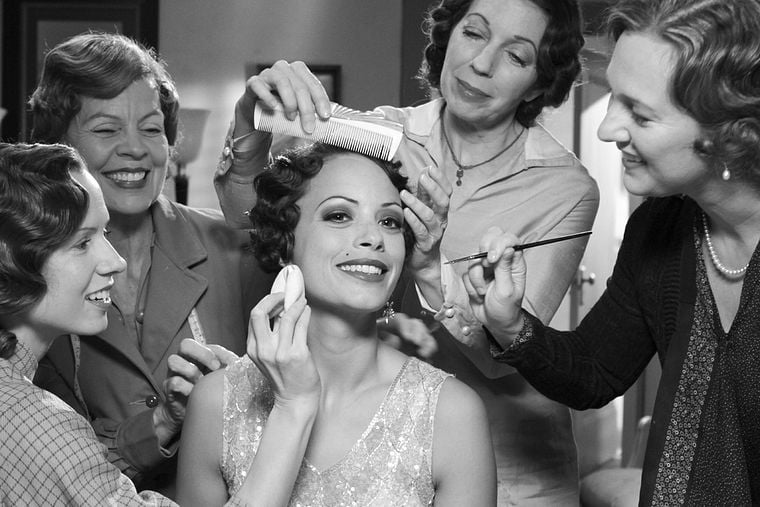 Of course, in a silent film, music is a crucial component because it has to stir a lot of the emotions that are usually assigned to dialogue and Ludovic Bource's work here is masterful and won him a richly deserved Oscar as well...the music in the film turns on a dime as the scenes do and it ranges from full orchestrations to a single instrument from scene to scene but it is always appropriate and matches what is happening on the screen.
There is a lot of classic Hollywood inspiration present here...films like
Singin in the Rain
,
Sunset Boulevard
,
A Star is Born
,
All About Eve
, and
The Bad and the Beautiful
come to mind while watching but nothing here smacks of imitation or rip-off, it is purely homage and homage done with complete respect.
Jean Dujardin, a charismatic actor who reminded me of Gene Kelly in his prime, is a revelation in the starring role and won a richly deserved Oscar for Outstanding Lead Actor. Berenice Bejo, whose deep soulful eyes reveal an actress of depth, was also nominated for Best Supporting Actress, though I'm a little unclear as to why she was nominated in the supporting category, unless the studio thought she had a better chance of winning in the supporting category, because this role was clearly a lead. There were a few familiar American actors here too...John Goodman made a perfect movie studio head and loved James Cromwell as George's chauffeur and BFF. The film was shot in beautiful black and white and was robbed of the cinematography Oscar, as well as the one for art direction. but it did win for costume design.
This was a once-in-a-lifetime movie experience that had me laughing, holding my breath, smiling, and most importantly for me, fighting tears. When I have to fight tears, this is a motion picture that has taken complete control of me, a sign of a great film...this film is, in a word, a masterpiece. For true cinema purists.