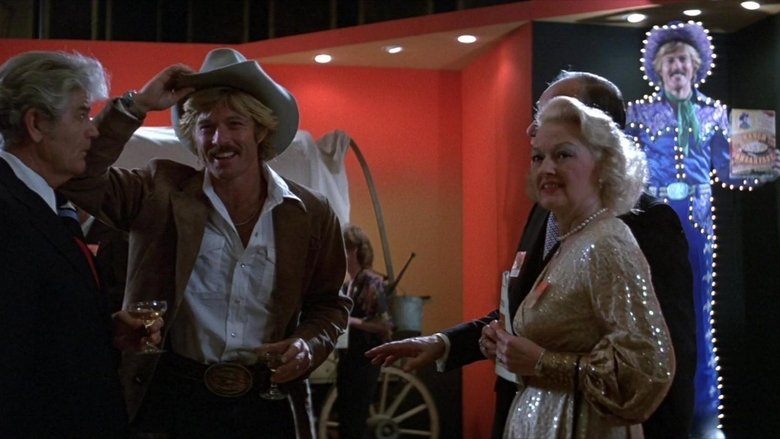 \
in
The Electric Horseman(Sydney Pollack, 1979)

Synopsis: Sonny Steele (Robert Redford) was a one time rodeo champion, who sold out to corporate America and now spends his days promoting a breakfast cereal called, Ranch Breakfast. He's more drunk than sober and it takes his buddy (Willie Nelson) to get Sonny to the next big promotion...and the next big promotion is for Sonny to ride a thoroughbred horse onto a Las Vegas Stage, while wearing a purple rodeo suit, covered in light bulbs!

My thoughts:
This was Robert Redford's comeback movie. He had taken a three year leave of acting and spent most of his time hold-up at his Utah ranch. With the promise of shooting the film in Utah near his home and doing horse riding, Redford agreed to make the film.
This is the most relaxed and at ease that I've seen Redford. Probably because he was involved with horses, which is a passion of his and the role called for a character much like Redford, (a horseman who's an outsider and prefers the outdoors to the glitz of showbiz.)
Basically the film is: Redford, a horse and Jane Fonda...and in that order! What those three do, makes for a good film. Halley (Jane Fonda) is the pushy news reporter who manages to find Sonny after he's rode off with a million dollar horse. Sonny just wants to be alone but Halley won't let him be.
The first act plays out like a social commentary on celebrity endorsed advertising, sort of like
Nashville
. In the second act we get more of a personal story and lots of beautiful outdoor shoots in Utah. I could have done without the tacked on police car chase, ala
Smokey and the Bandit
. But if you overlook that one indulgence you'll see a movie that's well crafted to Robert Redford's style of acting....low keyed.
+