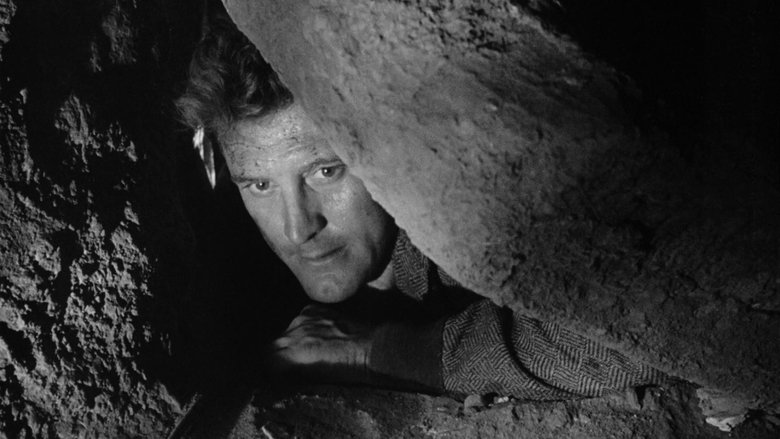 \
in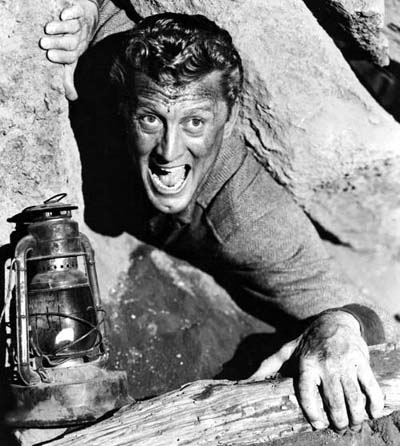 Ace In The Hole (1951)
Director:
Billy Wilder
Writers:
Billy Wilder, Lesser Samuels
Cast:
Kirk Douglas, Jan Sterling, Robert Arthur
Genre:
Film Noir
Synopsis(spoiler free): An aggressive, self promoting journalist, fresh from being fired from the big city paper he worked at, finds himself looking for employment in a hole-in-the-wall news paper in a small south western town. With nothing to do but drink, he finally finds a story about a man trapped in a cave, which he exploits and manipulates into a nation wide media circus.



Films Background
:
Ace In The Hole
is based on two true life incidents. The stories are heart breaking:
From Wikipedia:

The film's plot was inspired by two real-life events. The first involved W. Floyd Collins, who in 1925 was trapped inside Sand Cave, Kentucky, following a landslide. A Louisville newspaper, the Courier-Journal, jumped on the story by dispatching reporter William Burke Miller to the scene. Miller's enterprising coverage turned the tragic episode into a national event and earned the writer a Pulitzer Prize. Collins's name is cited in the film as an example of a cave-in victim who becomes a media sensation.

The second event took place in April 1949. Three-year-old Kathy Fiscus of San Marino, California, fell into an abandoned well and, during a rescue operation that lasted several days, thousands of people arrived to watch the action unfold. In both cases, the victims died before they were rescued.

Review:
Some might say this movie is over the top. I mean Kirk Douglas' character was completely out of control...and the idea of a carnival gathered outside of the cave, seemed outlandish.
But...this movie is about ballyhoo!
The director, Billy Wilder, not only made a film about ballyhoo, he made the film in the ballyhoo style. Now that's when I realized this film is amazing. Nobody is better at being intense than Kirk Douglas he works the character for every ounce of scandalous, self serving moxie he can muster. He uses people, he lies, he manipulates...all to promote his own career as a newspaper man. Even the poor man who's trapped in the cave becomes fodder for Douglas' self indulgent scheme.

You know what?
Nothing has changed. Today's news media is ready to hype and distort facts to get ratings, just like Kirk Douglas did.
Ace in the Hole
is a brilliant film by Billy Wilder, it's just as relevant today as it was back in the 50s.

Rating