\
in
The Man Who Knew Too Much
(1956)
Director: Alfred Hitchcock
Writer: John Michael Hayes(screenplay)
Cast: James Stewart, Doris Day, Daniel Gelin, Brenda de Banzie
Genre: Suspense Thriller
Length: 2 hours
Studio: Paramount
Synopsis
(Spoiler Free): On a family vacation to Morocco a husband and wife accidentally stumble into a secret assassination plot. The conspirators are determined to keep the family from going to the police with information that would spoil the conspirators plans.

Review:
Hitchcock films are almost always masterpieces. Hitch put maximum effort into planning out each of the scenes. He would spend his time off set, visualizing the next scene that he would be shooting...Hitch would 'see' the scene in his head from every imaginable camera angle, and that's a big reason why his films almost always work so well. He left nothing to chance.
Hitch knew how to evoke the audiences reactions. Just as importantly he knew when to 'relieve' that tension. As the mystery deepens in the movie and the tension grows, Hitch included some lighter comic scenes to give the audience a chance to reset their emotions. Without that break, we would emotionally burn out during a two hour tension filled movie. Hitchcock is rightful called a genius as he understands that his film pacing went hand and hand with the audiences attention spans.
Doris Day and Jimmy Stewart enjoy a happy moment before their lives are turned upside down.


There's another important component that Hitch utilized so well, the actors. Hitch knew how to pick them. James Stewart was one of the most likable and talented actors at the time. Stewart was in four of Hitch's films. Stewart works so well because he represents the average guy. When you watch Stewart you don't think your watching a big Hollywood star, you believe he's actually a small town doctor on a vacation.
But it takes two, and the flip side is Doris Day. Doris is like the female equivalent of James Stewart. She's pretty, but not Hollywood glamorous. She's likeable and seems like a person who you could know in real life. Like Stewart she's very believable in her role. She's usually remembered for her many comic musical movies...but here Doris does an amazing job of acting. I believed I actually was watching a frightened, panic mother.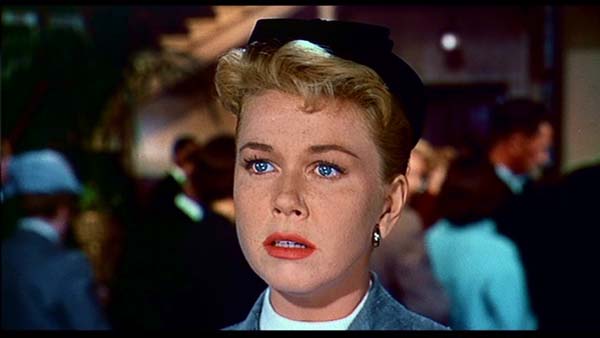 Que Sera Sera
is the song Doris sings twice in this movie. She sings it once beautifully with her son. The second time is at the climax of the movie and she sings it rushed with clipped notes. That's a testament to her acting ability, even during the song she stays in character.
No review of this movie would be complete without mentioning the music score, done by Bernard Herrmann who wrote the amazingly effective, but low key score. He's prominently featured on screen as the conductor of the London Symphony.
The lasts 12 minutes of the film are done without a single word of dialogue being spoken and consists of 124 shots in that time. The cinematography in the Albert Hall is sublime.
One last thing about this movie. In the 1950's TV was growing in popularity and taking a huge revenue chunk out of the movie studios profits. Some thought TV would kill the movies. To make up for this, the big American studios started shooting more color films and in wide screen format with improved sound. This movie is 1.85:1 VistaVision with Motion Picture High-Fidelity sound.
The other big draw for movies of this time, was on location shooting. Here we're treated to exotic on location shooting in Morocco and in London.

The Man Who Knew Too Much
is a masterpiece, but that's not surprising after all it's Hitch.
+