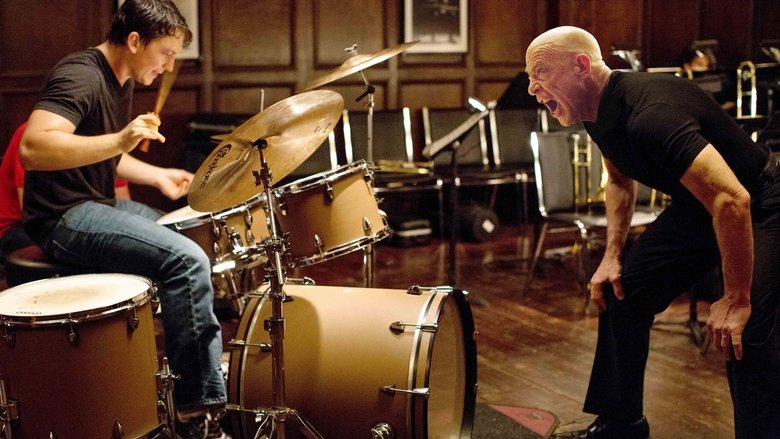 in
Don't let the fact that it won three Oscars fool you, 2014's
Whiplash
is an overblown examination of the singular obsession that drives musicians and the nonsensical battle of wills between a young drummer and a tyrannical jazz band conductor.
Set at the fictional Shaffer Conservatory of Music, the story concerns Andrew Neiman (Miles Teller), a 19-year old drummer who is initially thrilled at the chance to be the drummer for Fletcher (J K Simmons), an abusive and power mad musical genius who has been known for going a little too far to get what he wants from his band.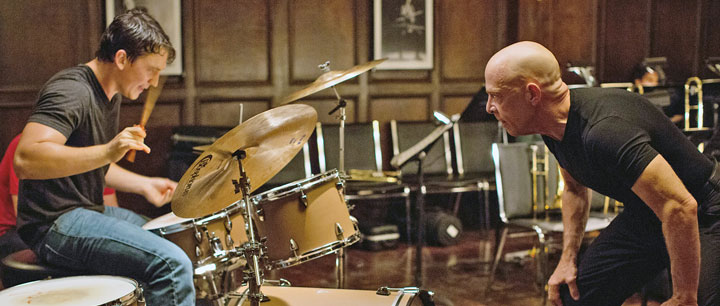 Basically, what we have here is
Fame
meets
An Officer and a Gentleman
as, despite the music school setting, the relationship between Andrew and Fletcher definitely had me flashing back to Richard Gere and Louis Gossett Jr. in the 1982 classic, the back and forth battle for the mutual respect, the abuse of power in earning said respect and the eventual understanding where the other is coming from.
Writer/director Damian Chazelle could have told a moving and realistic story about what musicians go through but has decided instead to substitute a realistic story about what drives musicians with a surface story rich with cinematic pyrotechnics...the film is rich with dazzling camerawork and editing(the editing did win an Oscar), but its a little short on some important technicalities regarding musicians.
The primary one concerns J K Simmons' performance as Fletcher, that won him the Oscar and Golden Globe for Best Supporting Actor. Simmons' performance is theatrically bold and demands attention but should have been problematic for any real musician watching the performance. I read music, play piano and trombone and have a musical theater degree and anyone with similar training would have noticed right away that it would have been nice if Chazelle had actually hired someone to teach Simmons
how to conduct
. Every time he raised his hand to conduct and counted off incorrectly, it took me out of the performance, not to mention the fact that Fletcher's obsession about tempos made no sense because we really never knew what the man is looking for.
Teller works very hard to make Andrew believable, even investing in the ridiculous cliche of "playing till your knuckles bleed." In 40 years, I have never seen a drummer's hands bleed and could not take these scenes seriously. There's just too much done here in the name of bold theatricality instead of a reality-based look at musicianship.