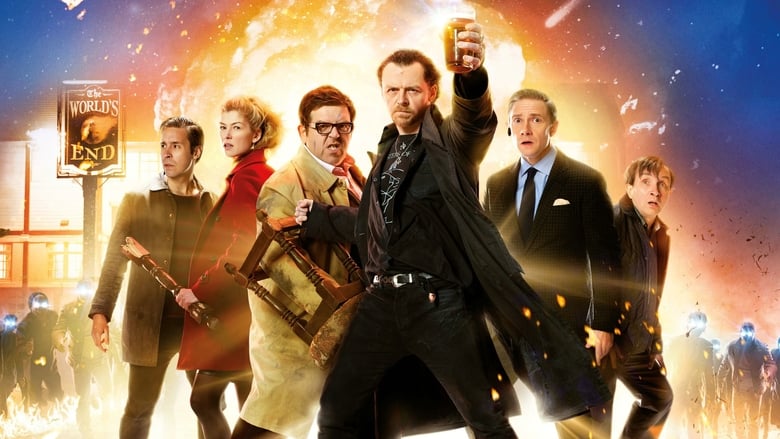 in
Review #227, Movie #298
The World's End
Mint Green Choc Chip
Year Of Release
2013

Director/s
Edgar Wright

Producer/s
Nira Park, Tim Bevan, Eric Fellner

Writer/s
Edgar Wright, Simon Pegg

Cast
Simon Pegg, Nick Frost, Paddy Considine, Martin Freeman, Eddie Marsan, Rosamund Pike, Reece Shearsmith, Bill Nighy and Pierce Brosnan


Synopsis:
Gary King, a self obsessed slacker, stuck in the past and hooked on holding onto his youth... decides one day to round up all his old school mates and try one last time to do "The Golden Mile", a pub crawl through their hometown of Newton Haven.


Reluctantly, the others agree, they've all moved on with their lives afterall but think it may be nice to catch up after all these years... but on arriving at Newton Haven the group discover something odd with the townspeople... and something odd about Gary King Of The Humans.

Review:

Erm... ok...


This film has been not so much slammed by fans of the first two Cornetto films... but it was met with a warm reception.


TWE, I found, was a warm and loving nod to nostalgia and the thoughts that go through the heads of most people pushing 40 years old... and throws that sentiment into a sci-fi mystery setting and laces the whole thing with the recognisable Pegg-Frost-Wright-Situational-Humour and visual gags.


What I liked about TWE is the way it ties into the first two movies as the spiritual sequel it was meant to be.
This film is like a culmination of what the trilogy stands for... the same/similar gags and running jokes... set into 3 disparate films:
1) Shaun's Horror 2) Fuzz's Action 3) End's Sci-Fi



The movie does lack that touch of originality though... Shaun and Fuzz were parody style movies and faithful loving nods to films of olde, and they upped the ante with some cracking writing... TWE lacks the cutting edge creativity and I think it's down to not being a parody of anything.

That said, with it being relatively original, it stands out from the other two even more so... and in a good way.



There is however, one thing that far outweighs the other two films. Character writing.
The characters seen throughout have been given a real decent treatment and backstory that unfolds throughout the film... and Gary King in particular has been given a history that is far more touching and tragic than any character seen in the Cornetto films so far.
Thumbs up for that!



As for the acting...
Pegg and Frost are at their usual... playing off each other for the kicks and coming to loggerheads as their differing characters disagree with each other.
Nick Frost in this one is much more the everyman than an oafish simple minded buffoon, and is almost more of a lead role than Pegg too.

Paddy Considine, Eddie Marsan and Martin Freeman as the other friends in the group are also a joy to watch.
Totally different characters with what feels like genuine history between them meeting up for the first time in donkey's years and they all work so well together alongside Pegg and Frost.

Rosamund Pike backs the guys up in a kind of "revisited love triangle" and she's pretty funny too when she's given the right direction.



There's also more action, effects and, well, stuff going on in this one.
Fuzz was pretty action oriented, but TWE adds a pile of CGI and pyrotechnics on top of the car chases, fisticuffs and running around like lunatics.
The general aura of the film is top drawer too. The photography, choreography and general scene placement add huge mystery between the more highly charged scenes.

The effects budget also hasn't been spared. The odd hit of puppetry and CGI is top drawer.


---
All in all, lacking that original touch... but also more original in that it wasn't heavily parodying other films.
Better character writing and a better story behind it, and definitely more personal in terms of plot devices that come from the character backgrounds.
Tons of fun too, if anything, more
fun
than the first two, if not quite as
funny
.
Just a shame the Cornetto gag was lacking
My Rating:
95%