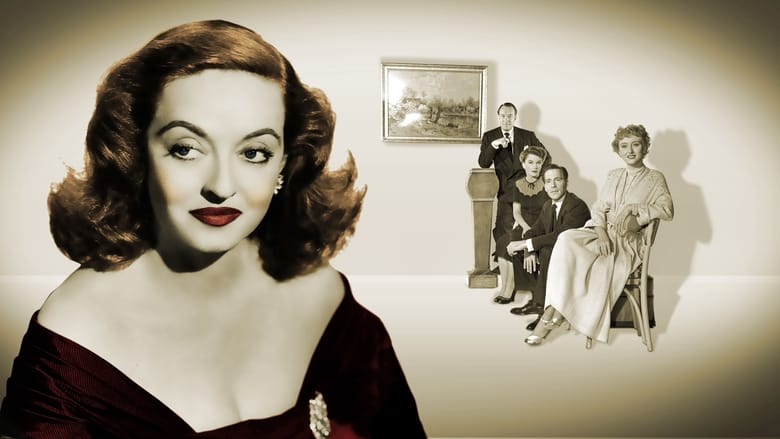 \
in
51. All About Eve
(1950)
First of all I'd like to mention that (based on what I've seen from him so far) I think Joseph L. Mankiewicz was a great writer/director. His self-assured attitude is always very visible in his work. He knows how to write dialogue and he knows how to firmly and effectively put something on a screen. In
All About Eve
, his talent shines through the most, in my opinion.
All About Eve
tells the story of many characters in the theater business. The most important ones are Margo Channing (brilliantly played by Bette Davis), an aging star of the theater, Eve Harrington (Anne Baxter), a seemingly innocent girl who starts working her way up into the business, and last but not least, one of my personal favorite film characters of all time, George Sanders' witty, but oh so deliciously malevolent theater critic, Addison DeWitt!
I am a huge fan of films that give the audience a view behind the curtains of a business or life that we don't usually come into contact with and show us new perspectives on certain things. This masterpiece is one of the best of that kind. It's clear from the opening scene (that takes place at a prestigious award show) that this film is going to show us the truth about what's behind all those fake smiles and empty praises. We're going behind the surface of the seemingly perfect and glide into a cynical cesspool of hypocrisy and emotions.
Besides offering us a dark and refreshing look on the theater business, this film also features a few very interesting character studies. Spoilers may be ahead!
There's of course Bette Davis' aging star, who is starting to feel aware of her transiency and who gets drunk on her own house party as a result of that. She's a true showbizz diva and she certainly acts accordingly, but when her self-confidence starts fading away, she shows signs of being very sensitive. She becomes just another insecure woman. She's definitely not larger than life...
Then there's Eve, the title character. She's probably one of the most despicable characters that cinema ever created. She has a dream of being succesful and there's absolutely nothing wrong with that, but the means she uses to reach her goal couldn't be more evil. She lies, deceives, manipulates and even blackmails people so she can become the dream image she envisions for herself. It's all about her...
Addison DeWitt is the only person in the room who truly knows how this whole business works, how life works. He realises that people are willing to do a lot for succes. People are willing to pay a big price to let their dreams come true, even sell their soul to the devil. And that's who Addison DeWitt is in my opinion, the devil! He has the gift to read people and once he found his female prey that is obsessed with fame, he gives her what she wants (or at least temporarily) and then takes full control of that person's life. In a strange sort of way, he's like a dark moral compass. He lets his victims explore the darkest sides of the business and makes them taste their dream, but after that he confronts them with their deeds, humiliates them and ultimately claims their souls...
This wonderfully dark and classic tale about obsession with fame, self-importance and the exploitation of false dreams will stay a favorite of mine for many years to come. Immorality is not the key to unlock the doors to selfish dreams, although it seems to be the quickest and easiest way to do things, but it may have to take an even more immoral and darker being, like Addison DeWitt, to make you realize this...
All About Eve
is an immortal classic!
Another great thing about this film is that it features one of Marilyn Monroe's early screen performances!
-------------------------------------------------