in
The Mask
Directed By: Chuck Russel
Fun Movie Trivia:

The nightclub "Coco Bongo", where Jim Carrey goes in this movie and "The Majestic", is also the name of Jim Carrey's nightclub in Cancun, Mexico.

The Mask has always been one of my favourite movies. It was a movie I loved as a child, and I thought it was the craziest, funniest thing I'd ever seen. Jim Carrey was fantastic back in the 90's. Movies like Ace Ventura, Dumb and Dumber, and of course The Mask are all comedy classics. He took comedy to the next level with his crazy antics, facial expressions, and pure silliness. Jim Carrey was the perfect guy for The Mask.... I mean who's more suitable for a crazy outrageous movie like The Mask other than him.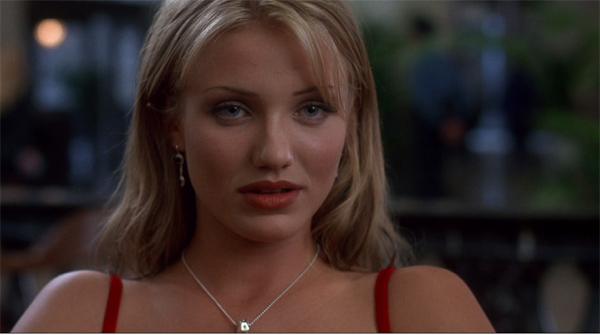 "Tell Auntie Em to let Old Yeller out."
The Mask is a superhero like no other. Forget your Iron Man, Thor, Captain America. This is a cartoon-y creation gone wild. With a mix of comedy and a theme that is really dark. You don't know whether The Mask is a good guy or not. I look at him as if he's a good guy, I laugh at him like he's a good guy, but everything he does is wrong. The Mask is just one crazy adventure that entertains from the very start.
Fun Movie Trivia:

Based on a Dark Horse comic book series of the same name, which frequently comprised very dark horror stories. Chuck Russell has said that the movie script started off in that tone before being transformed as a vehicle for Jim Carrey's unique comedy.

Amongst all the madness there are some pretty good performances. Cameron Diaz is fantastic in her debut movie. She looks unbelievable, she's actually never looked so good. Jim Carrey is in his element with his role. And Peter Greene does a good job as the movies villain. I actually remember being a little scared when He turned into the mask when I was a kid. Overall The Mask is a really fun movie, and I hope to see it make Rodents comic book countdown.