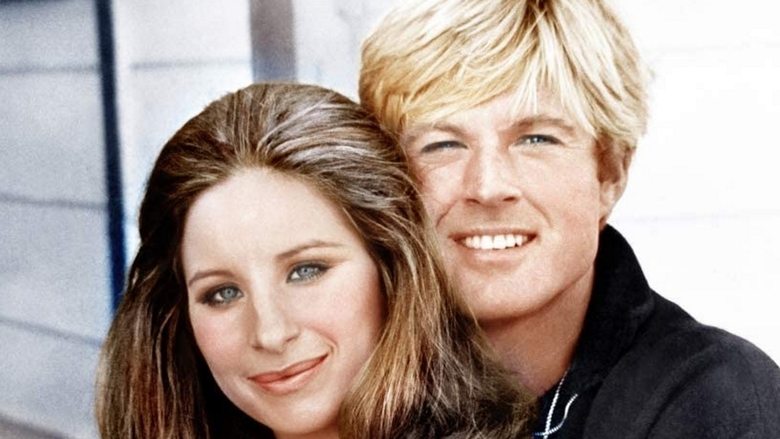 \
in
The ultimate chick flick, 1974's
The Way We Were
follows Katie Morofsky, a serious-minded college student and radical who works overtime at very liberal political causes that have developed through the turmoil of WWII and though she is the hardest working gal on campus, things don't always go as effortlessly for her as she would like.
Enter into Katie's life a guy named Hubbell Gardner (Robert Redford),a golden boy to whom everything comes easy and who takes life as it comes. Katie and Hubbell meet in college and she is immediately smitten with him, though she tries to fight it. Hubbell admires Katie's spirit, though he doesn't really love her, and from this springs one of the most moving and beautiful love stories ever put on celluloid, ending during the early 1960's.
This movie draws you in immediately because Katie and Hubbell are both people that we can relate to and we understand their feelings for each other from the beginning and even though these people are polar opposites, we want to see them make this relationship work, which is further complicated by their conflicting political convictions. Katie is all about making a difference in the world and Hubbell wants to take things as they come and not quite as seriously as Katie does.
The onscreen chemistry between Streisand and Redford is off the charts and Streisand had to fight hard to get Redford to do the film. He rejected the role after reading the original script and Streisand had re-writes done immediately in order to beef up Hubbell's role.
Pollack's sensitive direction and effective support from Bradford Dillman, Patrick O'Neal, and Viveca Lindfors also deserve mention here, but it is the magic chemistry generated by Barbra Streisand and Robert Redford that made this movie the instant classic it became. Needless to say, the classic Oscar winning theme song, flawlessly performed by Streisand, didn't hurt.