---
Little Big Man
Cast
Dustin Hoffman, Faye Dunaway, Chief Dan George, Martin Balsam
View All
Crew
Arthur Penn (Director), Calder Willingham (Screenplay)
View All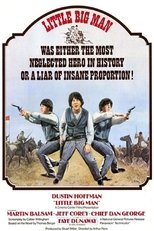 Released: Dec. 14th, 1970
Runtime: 2 hours, 19 minutes
Jack Crabb, looking back from extreme old age, tells of his life being raised by Indians and fighting with General Custer.
Reviewed by

mark f
It's also a very episodic film because Jack Crabb went through several "phases"; among those are his religion phase, his gunslinger phase, his Indian fighter phase, his adventures as a snake oil salesman, his attempt to become a legitimate businessman and a married man, his long search for his white wife after she's been kidnapped by the Indians, and his many confrontations with the dangerously psychotic Custer (Richard Mulligan).

iluv2viddyfilms
When it doesnt work, its too bad because Little Big Man has some of the best writing and some of the best scenes ever filmed.