Think you used enough dynamite there, Butch?
Wizards
As a youngster artist/stoner, I had always enjoyed the visuals of this film. There was something unique in the fact that there was not one specific format of animation but a complete hodge podge of work.
There were these wonderful fantasy sketches done in chalk on colored paper, as above, then there were moments of rotoscoping (taking live action and painting over it) mixed with the cartoon style of characters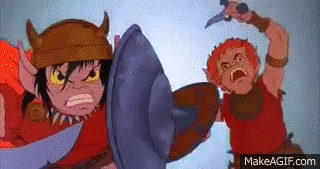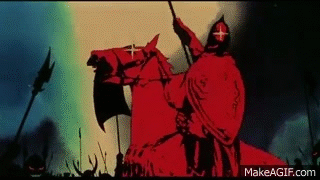 to backgrounds of purely inked linework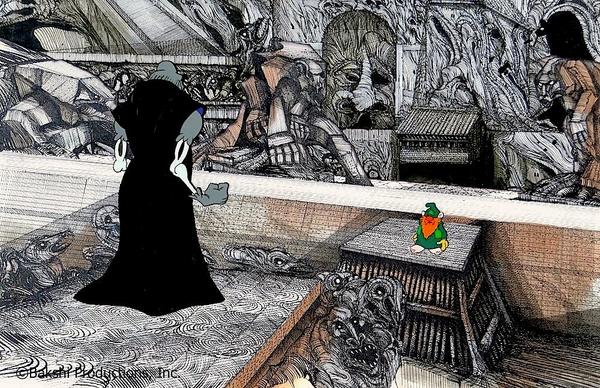 and even the character artwork would vary from intense to vaudvillian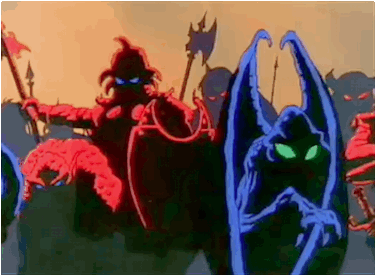 The allegorical warnings of propaganda and the destructive nature of technology within the story always seemed to drift into the background. The smorgasbord of various art forms, even now, takes precedence over the story as I watch, and remember the impression that the artwork made on me and the pleasant "trips" I had on numerous occasions and the artwork it inspired during those early years.
Much of the work seems more sketch work than finished/completed work, giving it a more overall rawness that I still find very worthwhile. Even some of the rotoscoping which I wasn't too much of a fan of, has some valid merit these many years later.
Quite the fun trip down daze gone by.
Thank you for that.
__________________
They say: that after people make love there's a kind of melancholia, the petite mort, the little death. Well, I'm here to tell you, after a romantic night with yourself there's a very acute sensation of failed suicide. ~Dylan Moran