The Wilde Wedding
Director/screenwriter Damien Harris attempts an homage to Woody Allen with 2017's
The Wilde Wedding
, a handsomely mounted comedy about a show business family that has a serious shot of star power going for it, but an overstuffed screenplay with way too many characters working against it.
The film stars Glenn Close as Eve Wilde, a retired movie star preparing for her fourth wedding at her glamorous country estate. In addition to Harold, the groom to be (Patrick Stewart, almost unrecognizable with a full head of hair), the guest list also includes Eve's first husband, Laurence (John Malkovich), a Tony Award winning stage actor, Eve's drug addicted rock star daughter, Priscilla (Minnie Driver), and Laurence's three sons (Noah Emmerich, Jack Davenport, Peter Facinelli), and our hostess for the festivities, Eve's granddaughter, Mackenzie (Grace Van Patten), who has a secret crush on her cousin.
Harris' screenplay seems to be delving into
Hannah and her Sisters
territory with a story centered around a show business family that divides into several mini-dramas as the story unfolds; unfortunately, he has populated the story with so many children, grandchildren, boyfriends, hetero girlfriends, and lesbian girlfriends that it is virtually impossible to keep up with everything that happens in the course of the story.
What does work here is the story of the characters at the center of the story and the actors that portray them. It was a joy watching Close and Malkovich working together for the first time since
Dangerous Liaisons
playing characters nothing like the ones they played in that film. One touch I loved that Harris did with their characters was making Eve a movie star and making Laurence a stage actor and the differences between the kind of actors they are is made perfectly clear. There's a cute moment right before the rehearsal dinner where Laurence's sons bet on how long it will take their father to mention his Tony Award at the rehearsal dinner. Minnie Driver also does some flashy work, which includes an impressive cover of Billy Idol's "White Wedding".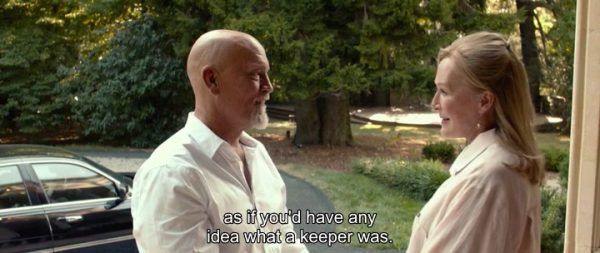 Harris' mounting of the story includes some first rate production values, especially the cinematography. The movie gets an "A" for effort, but truthfully, whenever Close, Malkovich, Stewart, and Driver aren't onscreen, the film screeches to a halt. These talented movie veterans do make this one worth a look.
Last edited by Gideon58; 02-05-21 at

08:44 PM

.