\
in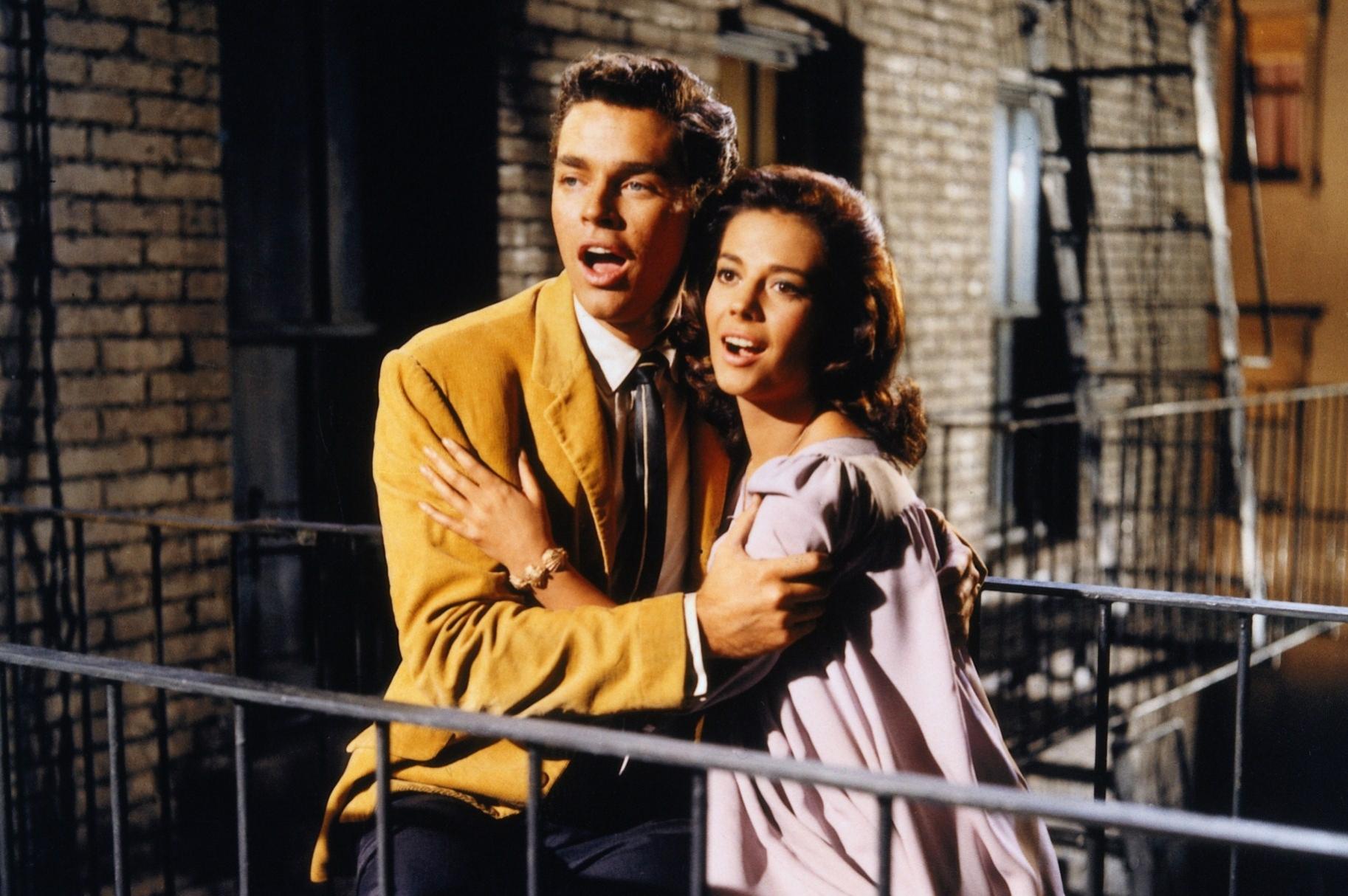 West Side Story
is the 1961 film version of the landmark 1955 Broadway musical that updated Shakespeare's ROMEO AND JULIET to the turbulent urban gang scene of Manhattan's west side that follows the romance between Puerto Rican Maria (Natalie Wood) and Polish Tony (Richard), which is framed against the battles between two rival gangs in the neighborhood, the Puerto Rican sharks and the Caucasian Jets, who are in constant, dangerous conflict over absolute rule over a small area of a west side neighborhood.
Co-directors Robert Wise and Jerome Robbins have constructed a nearly perfect musical here, which offers everything Broadway fans want from a musical and also offers a meaty story that could appeal to non-musical fans as well. The score, by Leonard Bernstein (music) and Stephen Sondheim (lyrics) has almost become part of musical folklore: "Tonight","America", "Something's Coming", "I Feel Pretty","Somewhere", "One Hand, One Heart", almost all of which have become individual classics in their own right and each is an integral part of the story that helps to flesh out characters and advance plot.
The cast is first rate, despite the fact that none of the leads do their own singing. Natalie Wood still makes a lovely Maria (singing dubbed by Marni Nixon)and Rita Moreno and George Chakiris light up the screen in their Oscar winning supporting turns as Anita and Bernardo, Maria's best friend and brother, who is leader of the Sharks. Russ Tamblyn is athletic and charismatic as Riff, the Jets' leader and Tony's best friend. Richard Beymer is a little too limp-wristed as Tony, but his singing is superbly dubbed by Jimmy Bryant. But the real star of this film is the dance. Never before was the art of dance used to such brilliant effect to advance the plot of a story. The entire opening of the film, introducing the conflict between the Jets and Sharks is done completely in dance and perfectly conveys the tension between the two gangs.
Co-director and choreographer Jerome Robbins has mounted some of the most amazing dancing ever seen on the silver screen. The opening, as well as the dance at the gym, "America" and "Cool" are absolutely dazzling dance numbers. This film swept the '61 Oscars, winning 10 awards, including Best Picture. No musical had ever won that many Oscars and it is doubtful that it will ever happen again. A once in a lifetime motion picture experience that all film buffs, especially musical buffs, should study and cherish and revel in.