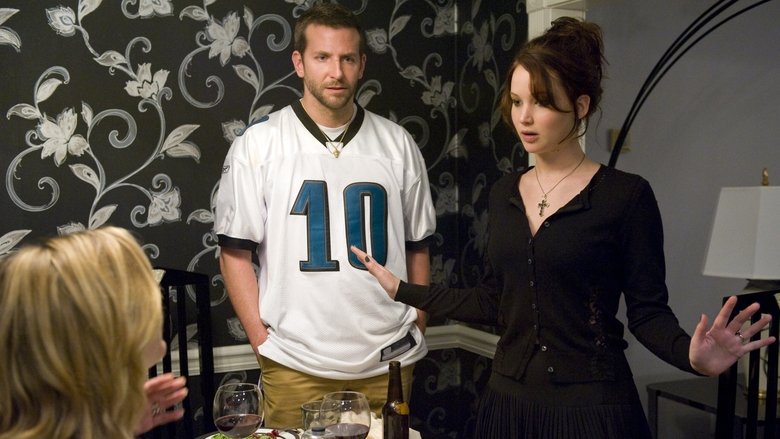 in
Silver Linings Playbook (David O. Russell, 2012) +
The 2012 Academy Awards saw
Silver Linings Playbook
, a romantic comedy, pick up eight nominations in total, notably getting a nomination for all four acting categories, including a win for Jennifer Lawrence, two years after a nomination in the same category for her performance in
Winter's Bone
.
This is a film that relies on its performances, and is a perfect example of a director knowing how to maximise, and do best, what he intends to do. The performances are vital because the story is quite straightforward, and some might say it is predictable and sentimental. But its simple style filled with charm is not a burden and is guaranteed to have you smiling and laughing throughout, this may have been very different in another film, under another director, but here it acts as a platform for us to watch these wonderful characters as they interact with each other.
The film is about two damaged characters. Bradley Cooper is Pat, a young man who has been released from a mental hospital after an eight month stay following a brutal attack on an older teacher that he came home to find his wife having an affair with, and Jennifer Lawrence is Tiffany, a young woman who has suffered from her husbands death and turned to a self deprecating lifestyle of sleeping with as many men as possible, much to the disgust of Pat. The two characters have different solutions to their problems, Pat believes that everything will turn out okay with his wife; he has lost weight and is attempting to control his anger, which he believes will bring her back. The pair argue with each other, both critical of each others personalities and methods of dealing with their problems.
These two damaged characters are perfect for each other, they are bonded by their similar problems, and both are looking to fix their lives. But aside from Pat's refusal to accept the current situation with his wife (who has a restraining order imposed on him), there are other obstacles that threaten to ruin the duo's potential relationship. Pat's dad, of same name, portrayed by Robert De Niro, is a gambling addict with problems of his own, he has OCD and is highly superstitious, sometimes blaming his son for his own problems and dragging the family down with has bad habits. Jacki Weaver is his wife, Dolores, the most sensible and caring character, in certain scenes of family turmoil you genuinely feel sorry for her character has she attempts to keep everybody happy and hold it all together.
When you heard Robert De Niro and Chris Tucker were set to be in a comedy together, you might have feared the worst with the former's recent track record with a string of less than impressive films following the turn of the 21st century, and the latter's role in the
Rush Hour
series, however both actors do great jobs in their respective roles. As mentioned De Niro's character is troubled, but the actor brings great balance to the person on screen, although often the cause of trouble, at other times he genuinely only means best for his family and is supportive of his son, wanting to strengthen his relationship with him and also for him and his brother (Shea Whigham,
Boardwalk Empire
). Then there's Chris Tucker's character Danny, who constantly pops up where you perhaps don't expect him, injecting a good amount of humour to a number of scenes.
The film is not perfect in terms of story, at times the plot does seem a little bit silly or unlikely, such as the bet towards the end, but as I said near the beginning of the review, that is not very important and can be excused as it gives us a reason to spend two hours with these wonderful likeable characters, particularly of course the characters portrayed by Brad Cooper, and the deserving Oscar winner Jennifer Lawrence.