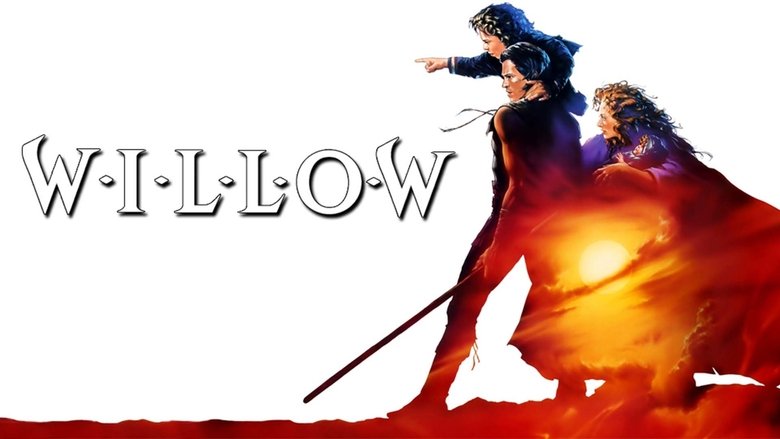 in
Review #176: Willow
Willow Ufgood, an Elwyn Dwarf is a farmer and a father of two, a good husband and an aspiring Sorcerer.
When his children discover a Daikini (tall person) baby flaoting down the river on some driftwood, Willow reluctantly takes the child in.
But the family are in for a shock when they discover that the child is being hunted by other Daikinis. The village Sorcerer gives Willow a quest, to take Elora Danan (the baby) away from the village for the Elwyn's sake and give it to the first Daikini he sees. But Willow's simplistic journey takes a twist when the first tall person he finds is Madmartigan, a renegade Swordsman, disgraced Knight and wanted criminal...
... and through more unforseen circumstances, Willow and Madmartigan end up on a quest to protect Elora Danan and fight an evil Queen who has her sights on destroying
The Baby Of The Prophecy
.
What a magical magical film.
Willow delivers a few miss hits throughout the running time, but not many.
What the movie has is a highly detailed look at a fantasy world and builds the adventure and excitment through hints of humour and occasional mild slapstick and lashings of stunt filled action.
It has a similar naivety to The Dark Crystal from time to time. It's almost an experiment in the world that's being built but the sheer scope of the film is magnificent.
There's also tons of new ideas running throughout mixed with older storytelling and some linear plotlines that somehow lead from a quiet unassuming fantasy into an action laden story of Witches and Wizards. It's very well pieced together.
Another thing with the movie is it's full of humour, mild cheesiness when needed and occasionally more dark and disturbing cinema added to the mix.
The humour and comedy especially are very organic and realistic and laugh out loud funny too.
The acting is also top notch.
Warwick Davis is the titular Willow. At only 18 years old too he holds the screen fantastically and really shows his worth as a bit of an action hero. He also seems to have had a ton of fun on set too.
Val Kilmer backs up Willow as Madmartigan. Kilmer is a massive surprise. He fits the bad boy with a heart perfectly and swings a sword around perfectly. As Willow says "You really
are
great!".
Kilmer and Davis have massive chemistry too.
Joanne Whalley gives a bit of a dual role as Sorsha... a love interest for Kilmer. She's not used much until the third act but she's pretty good.
Jean Marsh stands out too as evil Queen Bavmorda. Her role is another that isn't seen a mahoosive amount but she lingers with the viewer for a long time.
Back up comes from little actors Tony Cox, Phil Fondacaro and screen legend Billy Barty.
Others are Gavan O'Herlihy, Kevin Pollak, Rock Overton and another screen legend Pat Roach.
All give 110%.
Non actress Julie Peters as Willow's wife
Kaiya
is also another masterclass in acting. It's one of the most underrated background performances I've seen in any movie.
The effects are also groundbreaking.
Many forget that
Willow
is the movie that broke several moulds in several places. The Morphing Scene computer technology was actually invented for the film and has been used and tweaked in hundreds, if not thousands of films since.
ILM was still using stop-motion and matt-paintings in those days and had been experimenting with computers but Willow is the film that brought the tech to the populous.
They still used stop motion and matt-paintings in Willow, but you could say it's the Grandaddy of modern CG films.
It's also pretty seemless. Not perfect, but I've actually seen worse from
modern
films.
The action is also wonderfully choreographed and exciting. Especially the swordplay and sorcery that goes on throughout the running time.
---
All in all, not perfect due to some of the experimental screenplay and naivety to the world that was invented for the film but Willow is still a rip roaring adventure filled with humour and action and some wonderful special effects.
Kids will love it, even though it's occasionally dark from time to time and adults of all ages will take something from it, it's that much fun.