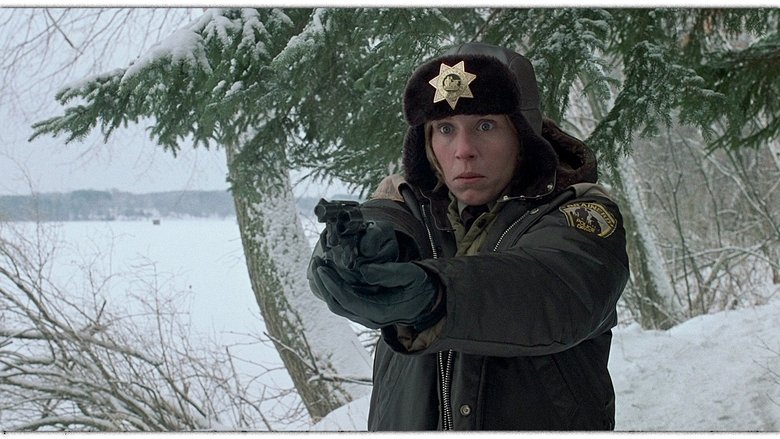 \
in
1996: Fargo
Joel & Ethan Coen's brilliantly twisted experience is definitely the best of 1996, but had some heavy competition. The main runner-up is Gregory Hoblit's courtroom thriller
Primal Fear
, which is fueled by a stellar performance from Edward Norton. Other runner-ups are
Mission:Impossible, Independence Day, Jerry Maguire, Scream
&
Trainspotting
. 1996 was a great year for film, putting out both thought-provoking dramas, twisted comedies & mega-exciting blockbusters.
1987. A Minneapolis automobile salesman named Jerry Lundergaard (William H. Macy) is in severe financial trouble. He travels to Fargo, North Dakota to hire two criminals named Carl Showalter (Steve Buscemi) & Gaear Grimsrud (Peter Stomare) to kidnap Jerry's own wife and demand a ransom from Jerry's wealthy father-in-law Wade Gustafson (Harve Presnell). Jerry makes a deal to split the $80,000 ransom with Carl & Gaear, but plans to demand more and keep the money for himself. All goes to plan, until the two are pulled over by a police officer, with Jean (Jerry's wife) unconscious in the back of the car. Gaear panics and kills the police officer and two innocent motorists who witnessed the murder as they were driving by. Enter Marge Gunderson (Frances McDormand), a heavily pregnant police chief who investigates these deaths. She deduces the chain of events and slowly begins to unravel the case.
Fargo
is a marvelously twisted black comedy and the excellence of this film mostly comes the film's script and performances. The script is remarkably well-written by the extraordinary Coen's Brothers, who can make us laugh about the most darkest things. In this film, you laugh at murder, blackmail, kidnapping, prostitution and mostly, gruesomely funny violence. Another contributing factor to the hilarity of the script is the mannerisms given to many of it's characters. "You betcha, yah; Oh, yah?". I laughed the most at these moments in the film. They generate genuine hilarity.
However, the performances are possibly the best part of this film. In a nonsensical film that you would believe the events to believe largely false (although it does have a disclaimer declaring that
Fargo
is based on true events), the performances make it seem real. As Wade Gustafson, Harve Presnell is antagonistic, ruthless and downright phenomonal. Peter Stomare is cold and menacing as Gaear Grimsrud, creating one of the best villians who shows emotion only when a woman runs into a tree throughout the entire film. However, outdoing both of them, William H. Macy is even better as the panicky, conniving and likeable Jerry Lundergaard who is caught up in a murder-kidnapping plot when he was trying to do pay his debts. You can't help but feel sorry for him. My personal favourite performance from this film is Steve Buscemi as Carl Showalter, an funny-looking, violent little fella who uses the amount of uses of f--k in a sentence I have ever heard. But the standout is the Oscar-winning Frances McDormand as Marge. She really makes the film feel real with her mannerisms, investigation skills and her down to earth personality.
Also, kudos to the soundtrack. I especially liked the piece
Fargo, North Dakota,
which is used throughout the movie as the theme. The song was played when McDormand accepted her Oscar.
Fargo
isn't the Coen's best (that honour goes to
The Big Lebowski
), but is still a hilarious, well acted saga of murder and blackmail.