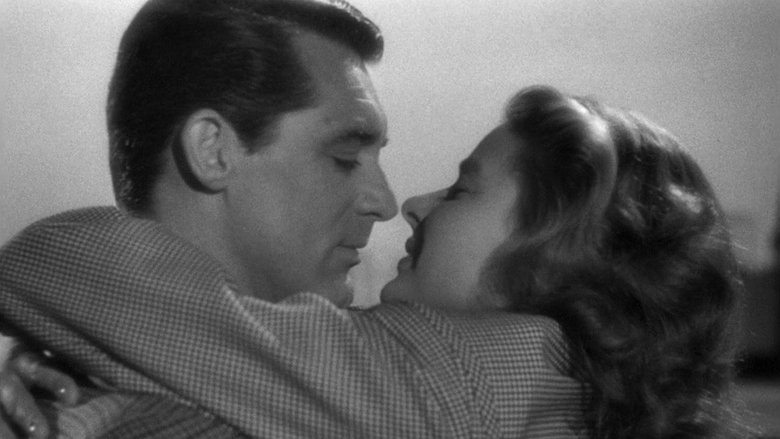 in
Notorious
I saw this movie on the big screen at the Arclight in Hollywood last night. AFI is doing a series of Hitchcock films, and I thought I'd see this. My first observation is that this film was more enjoyable with a group of people that had also seen the film. There's something exciting about sharing that experience with others. We knew when the suspenseful parts were, we all hated Mrs. Sebastian, we all whispered the fatefull words Alicia says to Dev when he comes to see her after she doesn't show for a meeting. It was fantastic.
The next observation I made was that this movie has a lot of humor in it. the relationships between Alex and his mother, and Dev and Alicia, lend themselves to laugh out loud moments. I hadn't picked up on it as thoroughly during my home viewings, and maybe being in a group made me more aware that aspect of the film.
Alicia Hubermann (Ingrid Bergman) watches her father go to prison, and because she refused to get involved with her father's plans, she is later solicited by the U.S. government via Devlin (Cary Grant) to do some work for them on a 'big case'. Alicia agrees without knowing what she's getting into. She and Dev hang out and get to know each other while awaiting orders. Alicia has a reputation as being 'that' kind of girl, and the government thinks she'll be perfect as a mistress to Alex Sebastian, a man who knew her and her father and had a desire for her. She can get information to them that can help them break the case they're on. Only, Alicia and Dev have fallen in love.
Dev tells her of the plan and asks her what she wants to do. She asks Dev why he didn't tell his bosses she wasn't that kind of girl anymore. He tells her it's her choice, a conversation ensues, and it doesn't go well. She finally agrees to get chummy with Alex.
Alex and Alicia meet up and he's as smitten as he used to be. She gets accepted into his circle easily, except by Mother Sebastian, who is critical of every girl her boy takes up with. Alicia updates Devlin weekly about evil Germans and secret meetings, and they banter back and forth, he alluding to her ability to 'make friends easily', and she acting like the girl she used to be so he can't see how he hurts her. At the race track one day, Alex sees Alicia with Devlin and in a fit of pique, says they must get married for her to prove she has no feelings for Dev. She tells the agents, and they say, "Go for it." So, not getting any feedback from Dev, she marries Alex.
The rest of the movie has intrigue and suspense as Alicia tries to stay alive in a house where they discover who she is and what she's doing, and are determined to get rid of her.
A very good thriller. A very good love story.