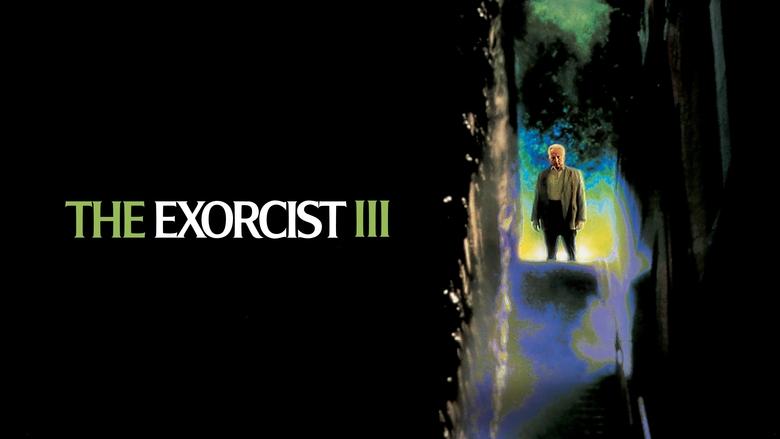 in
Exorcist III (Legion) (1990)
IMDB Details
Exorcist III
Mini Plot Summary:
Based upon the book Legion by William Peter Blatty, this part of the story takes place after The Exorcist. Upon inviting the demon(s) possessing Regan into his body, father Karras is thrown from Regan's window and down the infamous flight of stairs next to her room. At the moment of Karras' departure from his body the 'soul' of a serial killer (The Gemini Killer, played by Brad Dourif) is sent into his body by dark forces as a sort of cosmic joke against God. Fifteen years after Karras (Jason is thought to be dead Lieutenant Kinderman (played by George C. Scott) is plagued by the suspicion that the Gemini Killer who is also dead has returned. A great story and some horrifying madness ensues.
Craft (Look & Feel):
As you'll see if I do many more of these, I tend to gravitate toward liking films whose creators really paid attention to what's going on outside of the camera angles and the central focus of each scene. The main setting for this film is an inner city hospital which is appropriately creepy thanks to the 1940's vintage of the place, the dark corners and recesses, and overall tighter spaces than what's associated with modern hospital examples. There are many scenes where the close space lends an air of claustrophobia to an already creepy situation. The real star in cinematography for this film, though, is the sound department. In my opinion, the sound in this film is one of the finest examples of using the auditory to greatest advantage. If you watch the film, please do so with headphones (or appropriately loud surround) and no light. Many of the film's strengths are in subtlety and the brilliant sound work in this might be missed if you aren't paying attention. By way of example, one scene hinges on the cracking of ice cubes. There is literally two full minutes of sitting on the edge of your seat, listening to ice cubes cracking. To say more will give it away but scenes like this and the on going dimensionality of the sound and what it adds to the film by way of tension make it one of my all time favorites.
Characters/Acting:
Exorcist III stars George C. Scott as Lieutenant Kinderman who plays a small part in the original (not originally played by Scott).
The antagonist, The Gemini Killer/demon, is played by Brad Dourif. Scott lends his usual brilliant and compelling performance but in this film it's Brad Dourif who steals the show. Dourif performs a series of absolutely chilling monologues in this film where he discusses and details the pride he takes in his work as a serial killer. The exact how and why will give away too much but suffice it to say that I believe this role to be the best performance ever in a horror film.
Toose's Take:
Exorcist III is a prime example of what a horror film should be. The acting, cinematography and story all combine into a bone chilling tale of demonic possession and the ever fought battle between good and evil. The story line is rich and complex and this film doesn't treat the horror fan as if he/she is only half brained like many, many films in the genre do. I don't mean to suggest that there is absolutely nothing wrong with this film, there are some overdone parts (one has Fabio in it
), particularly in the end, but all in all Exorcist III is a very well crafted example of the horror genre and well worth a watch even to non genre fans.