in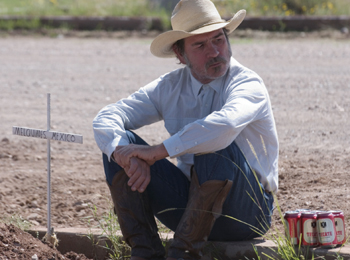 The Three Burials of Melquiades Estrada (2005 - Tommy Lee Jones)
Working from a strong script by Guillermo Arriaga (
Amores Perros, 21 Grams
), director Tommy Lee Jones has crafted a piece of cinematic poetry about friendship, vengeance and responsibilty. Jones also stars as Pete Perkins, a southern Texas ranch foreman. As the movie opens a body is discovered in the desert: it is a migrant cowboy named Melquiades Estrada (Julio Cesar Cedillo), who has been shot and left for the coyotes in a shallow grave. The narrative takes us back and forth in time to see who Melquiades was, the fast and deep friendship he and Pete struck up, the border patrolman Mike Norton (Barry Pepper) and his wife (January Jones) new to the community, and the fateful intersection that led to the shooting. It was essentially an accident, but Norton is a thug who has quickly earned a bad reputation. He doesn't report the shooting of course, but Pete doggedly figures it out. When the local sherrif (Dwight Yoakam) refuses to take any action, old Pete Perkins decides to take matters into his own hands. He kidnaps Norton, forces him to dig up the body of his friend, and the three men set out on horseback toward Mexico, so that Pete can fulfill a promise to Melquiades and bury him in the small village he loved.
This is Tommy Lee's feature debut as a director (though he also helmed the 1995 made-for-TV movie
The Good Old Boys
, starring himself, Sissy Spacek, Frances McDormand and Sam Shepard), and it is strong, confident work. Wisely he lets the tone stay elegiac rather than becoming frenetic. Jones' Pete is most definitely angry, but he doesn't let thet be what drives him. Taking Norton out to the desert and shooting him would have been easy enough and maybe even cathartic, but he doesn't want that kind of revenge. He wants to make him understand the gravity of what he has done and cannot undo, to beg Melquiades for forgiveness, not him. Even with a graphically decomposing riding partner there is some real humor too, and the Quixotic journey they make is engaging and poignant.
In addition to stellar direction, Jones is excellent in front of the camera. Tommy Lee is one of those actors that is so good so often, but too much of the time - in recent years especially - he's off collecting paychecks in bad and forgettable flicks (
The Hunted, The Missing, Man of the House
). To see him in
Three Burials
is a vivid reminder of just how truly great he is on the screen, how powerful yet quiet a presence and what a range of subtle emotion he can project and embody. Pepper gets the more thankless role of the bastard who needs to be taught a lesson, but he can definitely stand toe-to-toe with Jones on screen. There's an excellent supporting cast, led by Yoakum who continues to impress. He might not have a heck of a lot of range, but when you look at his work in
Sling Blade, Panic Room
and here, you have to see he's more than a singer/songwriter with a sideline. January Jones (no relation) is good as the bored and unloved wife who is lost in the dirt and dust of Texas, Melissa Leo (
"Homicide: Life on the Street", 21 Grams
) is excellent as the sexy aging waitress involved in extramarital affairs with a few of the men in town, and speaking of musicians turned actors The Band's Levon Helm has a great cameo as a blind hermit. Julio Cedillo gets a relatively small number of scenes as the title man before he becomes a corpse, but he is able to convey his simple integrity and dreams very well and very quickly, and you understand why Pete would go so far to keep a promise to him.
It's a little bit of
Lonely Are the Brave
mixed with
Bring Me the Head of Alfredo Garcia
,
Lone Star
and
"Lonesome Dove"
. The end result is a great film. Can't hardly wait to see it again. Definitely one of the best movies of the year, and a shame it was shut-out at the Oscars.
GRADE: A