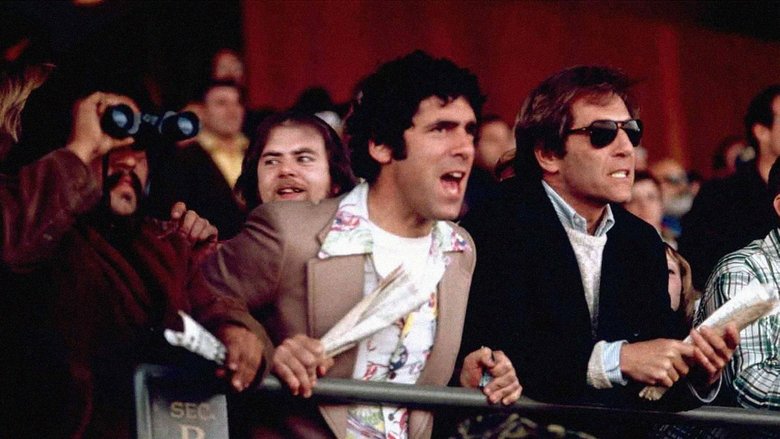 in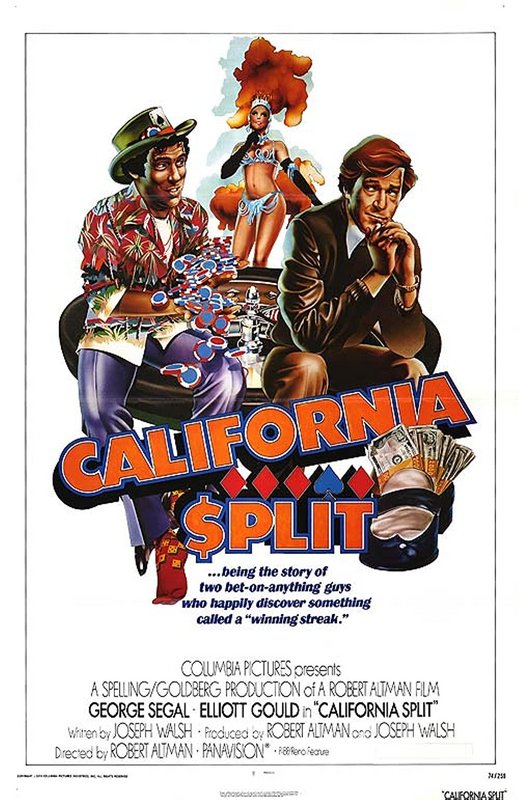 California Split - 1974
Directed by Robert Altman
Written by Joseph Walsh
Starring George Segal, Elliott Gould, Ann Prentiss & Gwen Welles
Someone I was once close to (he has since passed on) had a gambling problem, and watching
California Split
almost made me wish I could find my way into that mindset. In this Robert Altman film a special friendship is forged amongst the risk-taking heat of the thronging masses at racetracks, poker dens and casinos between a memorable pair of characters - genuine, and improbable when you get a sense of how different the two personalities are. It seems like a complete understanding of a state of mind between them - a brotherhood forged in battle where your lifeblood is measured in dollars and cents. It's another arena which suits the documentary-like style of this director, the mise en scène an Altman-like host of extras doing what they'd ordinarily be doing in places where it's really happening. If I weren't already used to this in Altman films it might take me longer to orientate myself - but now I almost expect it, and sit myself at a nearby poker table to eavesdrop on what's happening here.
Charlie Waters (Elliott Gould) finds himself in a dispute with a quick-tempered, overbearing man (played by the screenwriter's brother, Edward Walsh) at the poker tables when he's backed up by Bill Denny (George Segal) with whom he drinks after spotting the quiet, contemplative man at a nearby bar. The two start a friendship which is strengthened when they're both robbed and later end up in jail together - Charlie brings Bill over to his place and he meets the confident Barbara Miller (Ann Prentiss) and her polar opposite, Susan Peters (Gwen Welles). Under Charlie's influence, Bill skips work and joins him at the racetrack where the two share a big win, sending Bill over the edge into a gambling addiction that's soon enough upsetting Bill's creditors and others to whom he's not paying what's owed. When Charlie returns from a trip to Tijuana, Bill sells as many of his possessions as he can so that he can pool his money with him and enter a high stakes, $2000 buy-in poker game in Reno. But if Bill wins the money he needs to get even, and then some, will he be able to stop?
This film is really anchored by superb performances from Elliott Gould and George Segal - I'd hesitate to call Gould's act "naturalistic" for he's a kind of keyed-up, wild sort of character, but they both feel grounded and real-world kind of people. Obviously both actors were given great leeway to make the roles their own and ad-lib lines - this is an Altman film after all - but there was a screenplay guiding them, and both Charlie and Bill are very well defined. The difference between them makes the film interesting, as the lifestyle of both seem to make their friendship an odd sort of close co-operative partnership. Segal was at first perturbed by Gould's manic energy and loud manner, complaining to Altman that he was drowning out his own performance - but this is what the director was looking for. "He is absolutely strangling me to death" Segal complained, "I don't even know what to do." Screenwriter Joseph Walsh, whose story was based on his own battle with a gambling addiction, advised the actor to keep on going the way he had been - letting Gould be the dominant, clamorous half of the duo. Gwen Welles also makes an impression as a quiet, emotionally sensitive hooker who lives with Charlie and Barbara. She often falls in love with her clients.
Altman chose his director of photography based on the fact that he didn't want
California Split
to be overly beautified or attractive in a visual sense. Since he thought a good few better known cinematographers might find it hard to resist their impulse to do this, he hired the inexperienced Paul Lohmann (who he'd keep on for
Nashville
). The two created one of Altman's more subdued films as far as cinematography goes, and everything is presented in a very straightforward, typical way. Old pal Leon Ericksen was on board as art director having previously worked on
That Cold Day in the Park
,
Brewster McCloud
,
McCabe & Mrs. Miller
and
Images
for the filmmaker on his long run of artistic success. Another long-time collaborator, Lou Lombardo, worked in the editing suite putting the film together with O. Nicholas Brown. The film is much less focused on stylized visuals than other Altman films are, and is a little more straightforward while still maintaining the general feel of what his movies are like.
One item that does a lot to make this immediately recognizable as an Altman film is the sound - and for the first time on this film he had the opportunity to play around with an experimental eight-track sound system. This enabled him to control the volume of individual actors while maintaining that trademark "actors talking over each other" style he'd been playing around with ever since he started making feature films. It gave him the opportunity to let us hear exactly what he wanted us to hear dialogue-wise, and also use the overlapping dialogue to give extras and supporting actors little moments in the film they wouldn't otherwise have had. It does add to the atmosphere of the film - and provides a kind of continuity you feel when watching this one particular director's movies. It was much more exacting, and considering we spend a lot of time in gambling dens, at poker tables and the racetrack, being able to pinpoint a voice in the crowd for just one moment is a great strength to have for this film. Kay Rose, who won a special Academy Award for her work on 1985 film
The River
was sound editor on
California Split
.
The music is what we hear from pianos in poker bars, or drunken revelries. Although John Williams wrote no music for the film, his wife, actress Barbara Ruick, played a small role as a bartender near the end of the film and unfortunately died on location of a cerebral hemorrhage in her hotel room. Ruick was only 43 years old and the film is dedicated to her. Many of the extras you see are members of Synanon - an organisation for ex-addicts that eventually turned into a cult which was disbanded in the early 1990s. In fact, while the movie was being shot on location many of the cast and crew would gamble at various casinos - encouraged by the general atmosphere which helped foster the real feeling of the film. Essentially it was about how it felt to be a gambling addict, and also how some people become one along with the type of personality that gambling usually attracts. This is what led Joseph Walsh, after having his own experiences, to write the screenplay with the help of Steven Spielberg, who was once attached to direct it at MGM. After taking it to Universal, Spielberg went on to direct
The Sugarland Express
and the screenplay went on to get the attention of Robert Altman.
So, overall this might not be one of Altman's greatest films during this productive 1970s period, but it's still a damned fine piece of cinema and worthy of being considered a great success in how it came out. Many gambling addicts can relate to everything that happens in it - the superstitions, the highs and lows, the urge to gamble money on virtually anything at any time and the emptiness that constantly demands to be filled by risk. Bert Remsen (
Brewster McCloud
,
McCabe & Mrs. Miller
,
Thieves Like Us
) makes another appearance (in drag) and we get to see Jeff Goldblum at the very start of his feature film career (he'd only had a small role as a young punk in
Death Wish
to this point.) It has that feeling of realness about it - that you're watching real people interacting in real situations, like so many other Altman films. Many consider it to be one of the best films about gambling - and it still goes on to make many Top 10s when that subject is raised. The actors are at their best - inhabiting their characters, and we become very involved in their lives, not being told who they are through exposition, but picking it up ourselves.
California Split
comes through a winner, and I very much enjoyed seeing it for the first time - it won't be the last because so many Altman films have further rewards in store for those who come back.