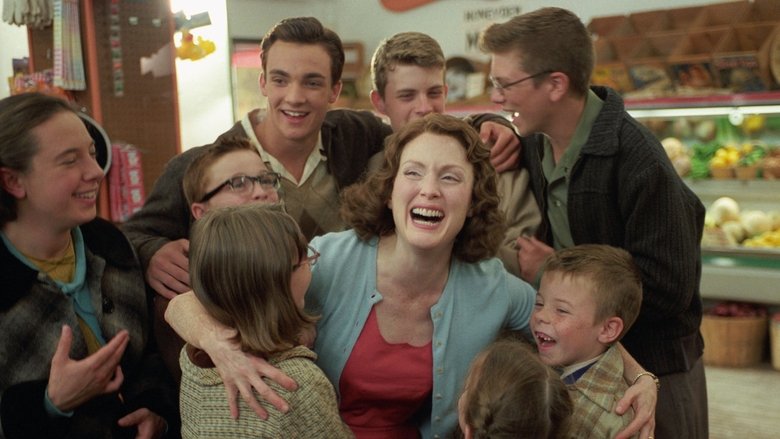 in
The Prize Winner of Defiance, Ohio
The performances by Oscar winner Julianne Moore and three time Oscar nominee Woody Harrelson are the anchor of a deliciously entertaining, fact-based story from 2005 called
The Prize Winner of Defiance, Ohio
, a handsomely mounted, seamless blend of black comedy and family drama that, if caught in the right mood, will definitely leave a lump in the throat,
Moore and Harrelson play Evelyn and Kelly Ryan, the struggling parents of 10 kids trying to keep the kids fed and the bills paid. Kelly works as a machinist, but blows most of his salary on whiskey. Obviously, with 10 kids to care for, Evelyn is a stay at home, but she does have a passion for entering slogan writing contests and develops an actual talent at it that almost makes her the family's primary breadwinner, despite Kelly's growing resentment as being usurped as the head of the household.
The screenplay by Jane Anderson (
Olive Kittridge
;
How to Make an American Quilt
) was adapted by a book written by one of the real life Ryan kids. Anderson is in the director's chair for this as well, and her passion for bringing the Ryan's story to the screen is evident in every frame.. Anderson always lets us know we're watching a movie by having Evelyn and narrate the movie while moving around the action of the movie, inserting herself as Anderson deems appropriate. Anderson also nails the look of the movie and its attention to period detail, beautifully bringing to life the 1950's in terms of settings, costumes, and music. I was especially impressed with her fictional recreations of 1950's television commercials, which were perfection.
What really makes this movie simmer is this enigmatic marriage of Evelyn and Kelly. Evelyn is completely devoted to her family and understands her lot in her life as a woman of the 1950's, but she's screaming on the inside. Her character reminded me a lot of Moore's character in
The Hours
and Kate Winslet's character in
Revolutionary Road
. Kelly consistently refuses to step up as a husband and father, but can't stand it when it's Evelyn who really starts taking care of business. Harrelson's character reminded me of his character in
The Glass Castle
, though his jarring mood swings here seem a little unmotivated at times.
Anderson's focused and sensitive direction make us really care about this family and evokes genuine fright when they are in danger of losing everything. Moore and Harrelson are both Oscar-worthy here, especially Moore, in one of her most enchanting performances. Also loved Laure Dern as a fellow jingle writer and Simon Reynolds as Bob the Milkman. A lovely little movie that is appointment for viewing for Moore and Harrelson fans.