in
Good Luck to You, Leo Grande
A glorious and utterly enchanting performance by the always watchable Emma Thompson makes a 2022 comedy-drama called
Good Luck to You, Leo Grande
worth watching all by itself.
The two time Oscar-winner plays Nancy Stokes, a widowed teacher who hasn't had sex since her husband died two years ago and has decided that she has to have sex...no commitments, just for fun, good sex that will hopefully lead to the orgasm that she has never had. Nancy books an unbelievably handsome sex worker named Leo Grande (Daryl McCormack) to help her get what she wants.
During their first meeting, Nancy's nerves get the best of her, despite Leo being a perfect gentleman, as she fights what she wants with every fiber of her being. Her deflection eventually leads her to questioning Leo about his personal life, which we can see is a mistake. As she backs off, their meeting seems to end on a positive note and we are overjoyed as three more meetings take place between Nancy and Leo; however, Nancy makes a serious misstep during the third meeting that seems to destroy a relationship we are really beginning to enjoy.
Katy Brand's screenplay is sexy and intelligent featuring two sexy and intelligent people who don't know how sexy and intelligent they are. I especially loved the first meeting where Nancy is freaking out and can't understand why Leo would want to be with her and he does everything correct to put the woman at ease, futile as it might be. We are happy that their first meeting, 40 minutes into the movie, ends with a kiss and we're not sure what's going to happen next, but I actually cheered when the screen went black and when it came back up, the words "Meeting Two" flashed across the screen.
Films like
Breakfast at Tiffany's
and
Pretty Woman
did flash through my head as I watched this film. Nancy spends a lot of time stalling Leo by questioning the legitimacy of what he does, despite the fact that he makes it clear he doesn't want to talk about. It almost gets to the point that we want to shake Nancy and tell her just to get what she wants from this man who is being paid and more than willing. Loved the reveal that neither Nancy nor Leo use their real names and the reveal of Nancy's real name was a particular delight.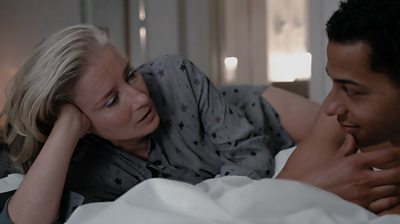 Thompson and McCormack are pretty much the only characters onscreen for the majority of the film and never make you regret it. Thompson is deliciously offbeat as Nancy and McCormack offers the best sex-on-legs performance I've seen by an actor since Brad Pitt in
Fight Club
and has the most beautiful eyes I've seen on an actor since Cillian Murphy. Oh and be forewarned that the film does feature full frontal Emma. A sexy and fun film that offered smiles, giggles, and warmth throughout.