in
On the Count of Three
Jerrod Carmichael, star of the short-lived sitcom,
The Carmichael Show
, impresses as the star and director of 2021's
On the Count of Three
, an edgy and intense black comedy that feature story elements from films like
'night mother
,
The End
, and
The Bucket List
, but arouse the kind of emotions aroused by Jim Cummings films like
Thunder Road
and
The Beta Test
.
Val (Carmichael) and Kevin (Christopher Abbott) have been friends since childhood, but as their reunited at the beginning of this film, they are both suicidal. They decide they want to die together, but decide to spend the day getting their affairs together and taking care of business before they do.
Suicide has never been one of my favorite movie subjects, but the screenplay by Ari Katcher and Ryan Welch, which won the screenwriting award at the 2021 Sundance Film Festival, has a tongue-in-cheek undercoating that make the first two thirds of the film pretty easy to digest, but we know things are going to get more intense during the final third, beautiful symbolized by a change in the story's physical setting...the sun begins to set and it begins to snow. The scene at the gun range and the scene where Val reunited with his father beautifully represent both sides of this storytelling spectrum.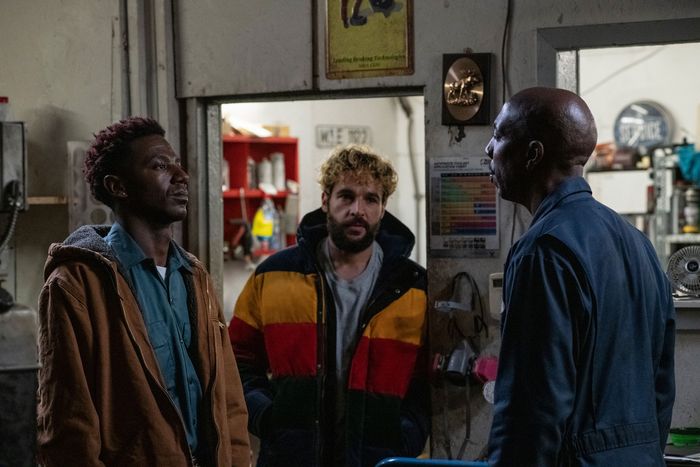 LOVE the way the characters are first introduced to us which I don't want to ruin by describing here. The story ends up playing like separate little vignettes which one has to pinch oneself to remember that the whole film takes place in a matter of eight or ten hours. There are the expected scrapes with the law along the way, but even none of them play the way you expect them to. The scene in the convenience store with the clerk just coming on duty had me on the floor.
In addition to his often breezy direction, Jerrod Carmichael delivers a rich performance as Val and Christopher Abbott is deliciously unhinged as Kevin. Mention should also be made of cameos by Henry Winkler and an actor I usually can't stand, JB Smoove, as Val's father. By the time this movie was over, my heart was in my shoes.