in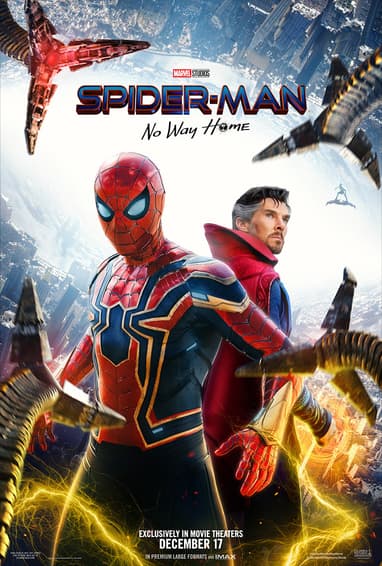 Connor Macgregor Reviews...Spiderman: No Way Home
INTRO:
Spiderman is back again, not just to save New York, but perhaps the film industry entirely.
SUMMARY:
Peter Parker's secret identity is revealed to the entire world. Desperate for help, Peter turns to Doctor Strange to make the world forget that he is Spider-Man. The spell goes horribly wrong and shatters the multiverse, bringing in monstrous villains that could destroy the world.
GREAT FILM:
This Spiderman film is a gold mine of treats. For one its a story for the fans, and is both exciting and emotional. It takes Peter Parker who resides in the MCU and transitions him to the next level both as a hero and as a man. It's a brutal coming of age film which leaves him in a different position from the beginning of the film. I found Tom Holland to be fantastic in this film, as he has been in all the Spiderman films, but here he really went further with the role and did his best performance to date. Other performances that were good included Zendaya, who was a great support for Peter despite the circumstances, as well as others which I'll talk more in the spoiler section. I like the fact that we now have a new slate for Spiderman, and the next batch of films will be intriguing to watch.
SPOILERS:
WARNING: "Spoilers" spoilers below
Spoiler time. It was a lovely surprise to see Andrew Garfield & Toby Maguire reprise their roles as their respective Peter Parkers. They were great and this film gave them the space and time to round up their stories and fly as Spiderman one more time. Andrew Garfield shone better for me, but Toby was also very strong too, bringing to me warm nostalgia from my childhood when he first took the mantle as Spiderman. The villains were also great, especially William Dafoe and Jamie Foxx who both brought new angles to their villains respecively as Green Goblin and Electro. That being said, despite feeling conclusive, it does leave the idea open that these variants of Spiderman could show up again at some point, either in the MCU or back in their own franchises. Fingers crossed.
OVERALL:
Spiderman No Way Home is without a doubt a fantastic Spiderman film which is a love letter to fans, and takes Spiderman in new directions. I loved the cameos, the conflicting story and the fact that it treats Spiderman like the big deal that he is.
RATING: 100% - A+