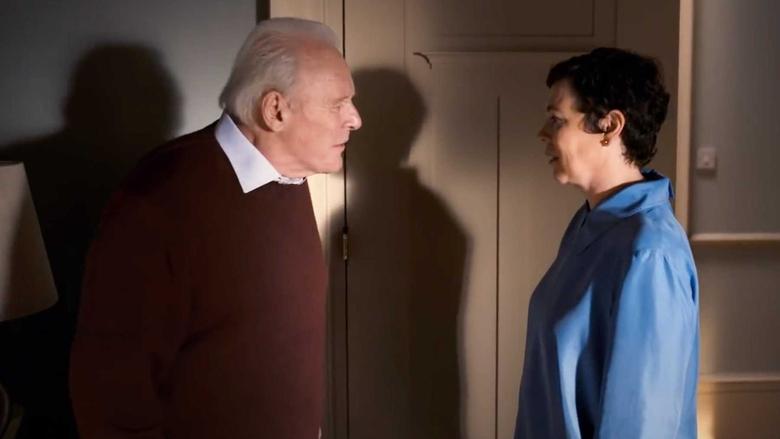 in
The Father
(2020)
Itís hard to recall in many years ever having been so taken by a film. Itís production brought together heavyweights in each aspect of movie making: writer, director, actors, cinematographer, editor, and composer. Their collaboration resulted in an astonishing and unique portrayal of an old manís descent into dementia, his daughterís journey in living with him, and its outcome.
Anthony Hopkins, in one of his greatest performances, introduces us into the mind of a gentleman who does not quite realize that his mind is failing, or what his circumstances are. He shows us every emotion-- sometimes overtly, others with nuance. The story disguises itself by presenting his awareness from several points of view, although the audience does not realize it at first, which introduces a feel of mystery and mild surrealism. Each perception melds together in the end, leading to a moving but sympathetic conclusion.
So too does Olivia Colman --as the daughter-- let out all the stops. Her large limpid eyes express her innermost thoughts, and lead us through sadness, irony, and determination. She is the perfect accompaniment to her fatherís befuddlement and confabulation. Olivia Williams shines as a compassionate nurse, and Imogene Poots impresses as an in-home care worker. The veteran Rufus Sewell is believable as the daughterís mate who tries to convince her to put her father in a home.
Reportedly French writer/director Florian Zeller had Anthony Hopkins directly in mind as Zeller was writing the screenplay-- so much so that he stated that if Hopkins did not accept the role, Zeller would have made the film in the French language. We are grateful that Hopkins accepted. There simply was not a better acting performance this year, and one would hope he deservedly wins awards.
The production was instantly absorbing, and drew me in with concentration to the point that when it ended I felt as if I came to. Everything and everybody came together perfectly in this film, and it will be one for the ages.
Rating: 10/10