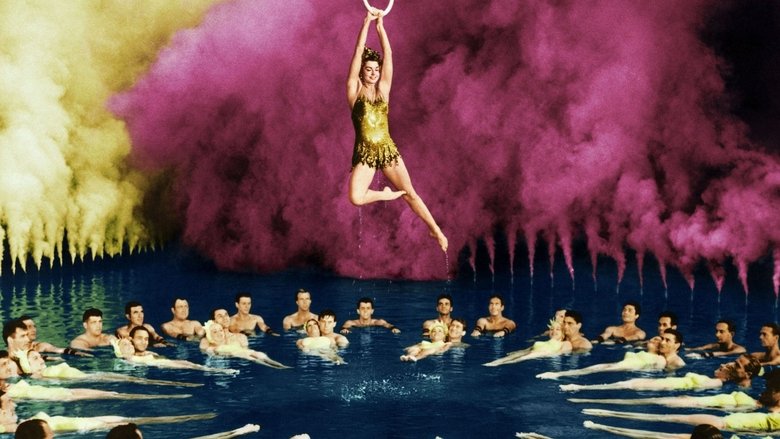 in
Million Dollar Mermaid
MGM poured big money into their 1952 biopic of Annette Kellerman called
Million Dollar Mermaid
, but it's still one of the lesser Esther Williams aquatic spectacles due to lackluster performance from the leading lady and lethargic direction that makes the movie move at a snail's pace.
Annette Kellerman was born right before the turn of the century and overcame polio as a child to become a world renowned swimming champion, even though her father wanted her to become a ballet dancer (at least according to this film). She eventually becomes the star of her own water ballets at the famed vaudeville theater, the Hippodrome. Before that she caused an international sensation as the first woman to wear a one-piece bathing suit that actually exposed her legs (horrors!).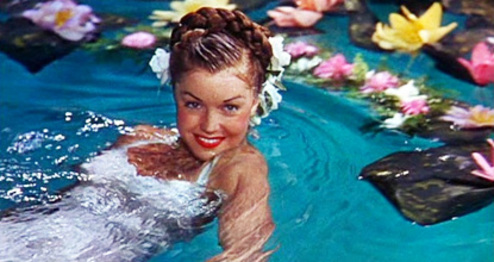 Built around the sketchy facts of Kellerman's life is a fictional romance built around Kellerman, a circus owner named Jimmy Sullivan (Victor Mature), who adored Annette but couldn't stand it when she became a bigger star than he did and Alfred Harper (David Brian), the owner of the Hippodrome who loved Annette madly but was in denial regarding the fact that she was still in love with Jimmy and always would be.
Kellerman's real life was basically used as a blueprint to mount another huge musical for Esther Williams, featuring a melodramatic screenplay by Everett Freeman that clearly plays fast and loose with the real Kellerman's life. Kellerman's life just became the framework for another over-the-top Esther Williams aquatic spectacle and there's no arguing that the water ballets in the film are nothing less than dazzling, thanks to Busby Berkley at the helm. Film purists will find it ridiculous that these huge water spectaculars could actually be mounted on a proscenium stage which the director gives away more than once, showing the water shooting all over the edge of the audience and making it clear that there's no possible way these ballets could have fit on the stage of this hippodrome.
And speaking of the director, Mervyn LeRoy, who also directed the 1962 musical
Gypsy
really weighs this film down with heavy handed direction that makes a one hour and 50 minute film seem five hours long. This movie moved at a snail's pace, especially during the dry-docked scenes. When Busby Berkley's water ballets weren't commanding the screen, this movie became very labored and sustaining interest was a lot of work.
Esther Williams also gives one of her weaker performances, which is kind of sad since she is portraying a real person. Further aggravation was provided by the screenplay constantly reminding us that Kellerman was Australian and neither Williams nor Walter Pidgeon, who played her father, make any attempt at sounding Australian. Victor Mature and David Brian were terrific leading men, and Jesse White was also very funny as Jimmy's sidekick. A little research on Kellerman revealed that she is a subject worthy of a real biopic, but for lovers of MGM musicals, it's passable entertainment, nothing more.