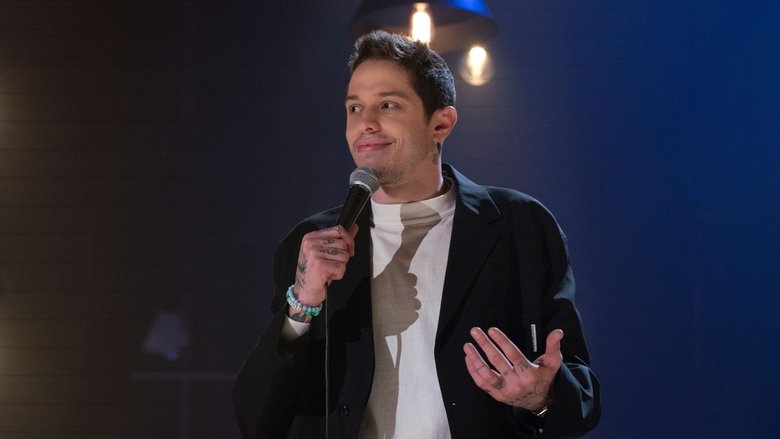 \
in
Pete Davidson: Alive From New York
I have to confess that I have always found Pete Davidson hysterically funny on
Saturday Night Live
, so my curiosity was naturally piqued when I happened upon this 2020 concert because, outside of Eddie Murphy, I don't recall a lot of SNL cast members doing stand-up. Sadly, the show did not live up to my expectations.
Davidson joined the cast of
SNL
at the age of 20, making him one of the youngest performers ever cast on the show. Over the years, he has provided his share of comedy and controversy, the latter courtesy of his openness about his drug use, his making fun of Congressman Dan Crenshaw for his eye patch during a segment of "Weekend Update", and for his brief romance and engagement to singer Ariana Grande. It goes without saying that all these issues get addressed with Davidson's very twisted comic eye.
Before he gets to these issues, he starts the show off with a very funny story about Louis CK ratting him out to Lorne Michaels for smoking weed in his
SNL
dressing room. Unfortunately, this story ends up being the funniest thing in the show.
Davidson is a funny guy but I'm just not sure if stand-up is his forte. He spends a lot of time onstage looking at the floor and fidgeting and his transitions from subject to subject are uncomfortably abrupt. There are certain things he said that came off like they were things that got big laughs from his stoner buddies but this reviewer just didn't get.
There were scattered laughs provided from his views on gay man/straight woman relationships, but his biggest laughs came from his tirade on Ariana Grande, which also contained the most venom. He concluded the show with some oddly unfunny stories about his father, who died in 911, which were more strange than funny. This concert made me think that Pete Davidson is a lot funnier when he is given a character to portray because the odd guy doing this stand-up wasn't nearly as funny as the guy I've been watching on
SNL
since 2014.