in
The Gentlemen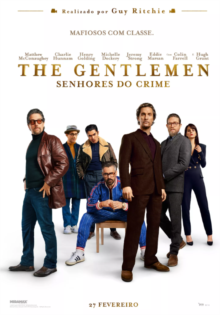 --------------------
Year Of Release:
2019
Directed by:
Guy Ritchie

Screenplay by:
Guy Ritchie
Cast:
Matthew McConaughey, Charlie Hunnam, Hugh Grant, Michelle Dockery, Jeremy Strong, Colin Farrell and Henry Golding
--------------------
There's only one rule in the jungle: when the lion's hungry, he eats!
"An American expat tries to sell off his highly profitable marijuana empire in London, triggering plots, schemes, bribery and blackmail in an attempt to steal his domain out from under him." (
in
IMDb
)
Guy Ritchie started his career with a bang: "Lock, stock & Two Smoking Barrels" (1998) and "Snatch" (2000) defined a genre and solidified a very unique style of doing British gangster films. They were messier, faster and bolder than their American counterparts but still powered with great scripts and powerful performances.
It also created a faithful legion of fans who loved Richie's first two features enough to disregard a streak of subpar films after that and still keep looking forward to any new film he put out.
Being one of those fans, my expectations to "The Gentlemen" were still high and I sat down expecting to watch a true Guy Ritchie film, if not as good as the first two hits, at least something that could make them justice. After all, he was finally returning to the gangster genre and that was enough of a promise.
I wasn't left disappointed. The film brought back many of his traits he had seemed to forgot how to use, presenting at the same time a more mature and cleaner style.
I didn't have as much fun as with Snatch, but I felt entertained and at times drawn to that magic and filthy universe filled with violence, quirky characters, and politically incorrect racial and homophobic slurs - it's clear these are not ill intended, it's simply the world where this characters live in.
Grant, McConaughey and Hunnam convincingly exchange jabs at each other, making the most of a very tongue in cheek script with some well directed moments of drama and a few well timed twists. There are also some minor but interesting perfomances by Collin Farrell and Michelle Dockery who seem to be well positioned to have a lot more screening time in any eventual sequel this might have.
It's very satisfying to see Guy Ritchie closer to his prime! May he not lose the balance again.