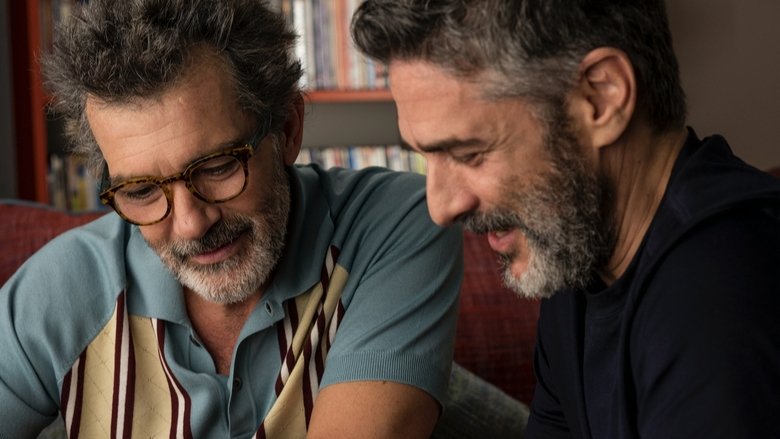 \
in
Pain and Glory
There are some issues with story structure, but 2019's
Pain and Glory
is an intimate and edgy character study rich with crisp visual images that has earned its star his first Oscar nomination for Outstanding Lead Actor, as well as a nomination for Outstanding Foreign Language Film.
Antonio Banderas nails an Oscar-baity role playing Salvador, a former movie director whose most famous film is being revived for some kind of festival, where he and the star of the film have been asked to present the film and moderate a Q & A after the screening. This event precludes a look at Salvador's past with his strong and manipulative mother, intermingled with his troubled present, which includes some pretty serious health issues and an addiction to heroine.
Pedro Almodóvar, the Oscar-winning creative force behind films like
All About My Mother
and
Volver
, proves to have a real stylish eye with the camera and a talent for conceiving original and intriguing stories, even if the actual execution doesn't always come off as it should. Almodovar's story attempts to provide answers regarding the current state of his life by flashing back to his childhood, where it is revealed that his mother wanted him to become a priest, but we never really are provided any insight as to how Salvador became a movie director, a point that nagged at this reviewer throughout the running time.
What Almodovar does beautifully is craft a central character that we care about, understand, and pity simultaneously. The opening scenes that introduce Salvador are quite sad, watching a man who it is made clear, once had a thriving career directing movies and doesn't care about it at all anymore. A glimmer for change is established when interest is expressed in a play he's written but has never gotten further than his desk top. This aspect of Salvador's life becomes less important as a different one takes center stage, but this, coupled with the man's addiction, legitimizes a lot of his pitiable behavior.
Almodovar's camera work is crisp and direct with strong assists from cinematographer Jose Luis Alcaine and film editor Teresa Font. Antonio Banderas finally gets the opportunity to prove he is more than a pretty face, turning in a rich performance that earned him a Best Actor nomination. I guess I understand the nomination, though I'm not sure he was better than Adam Sandler in
Uncut Gems
. it should also be mentioned that I have never enjoyed Penelope Cruz onscreen as much as I did here, playing Salvador's mother in the flashback scenes. There are minor story faux pas, but it's a lovely little movie and the final twist at the end is a dandy.