in
Beyond the Valley of the Dolls
From the "So bad it's funny" school of filmmaking comes the bizarre 1970 curio
Beyond the Valley of the Dolls
, a crude and raunchy tale of sexual debauchery that is allegedly supposed to shed a realistic light on show business in Hollywood, but collapses under a barrage of ridiculous writing and unbelievably bad performances that pretty much destroyed the careers of most of its cast.
Sex-ploitation master of the 60's and 70's Russ Meyer and the late Chicago Sun Times film critic Roger Ebert are the guilty parties responsible for bringing this mess of a story to the screen. This is the story of a female rock band called the Kerry Affair who come to Hollywood accompanied by their wimpy manager, Harris, in order to become stars. They are welcomed to California by lead singer Kerry's Aunt Susan, who also promises Kerry a large inheritance. They perform at a party thrown by a rock producer named Z-,Man Barzell, who takes over as their manager, changes their name to the Carrie Nations, which leaves poor Harris time to fall for a self-absorbed porn star named Ashley.
This in-name sequel has absolutely nothing to do with the 1967 film based on Jackie Susann's novel and, if the truth be told, makes that film look like
Citizen Kane
. I spent the majority of the running time either giggling or scratching my head, wondering what a respected film critic like Roger Ebert was thinking when he penned this outrageously over-the top tale of sexual machinations in Hollywood that features women using their bodies to get what they want, women abusing men, women loving women, men pretending to be women, women pretending to be men, drugs, suicide attempts, and a character who makes a silly transformation into a character who resembles Dr. Frank-N-Furter in
The Rocky Horror Picture Show
who takes center stage in a bizarre and bloody finale of an already bizarre story that completely defies logic and makes no apologies for it.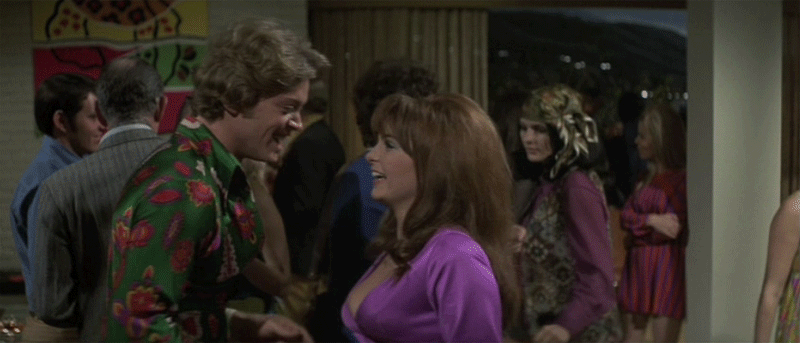 The movie appears to have been made on a budget of about $100 and features an appalling, headache-inducing music score by Stu Phillips that defies description. The acting in this movie is unbelievably bad. Russ Meyer clearly told his cast that real acting consisted of speaking as loudly and quickly as they could. 60's sex goddess Edy Williams attracts some attention as Ashley the porn star, and the only other actors who continued to work after this film were Harrison Page and Charles Napier. Phyllis Davis, who played Aunt Susan, did spend a season as one of the skit players on
Love American Style
and Dolly Read, who played Kelly, never worked again and eventually married comedian Dick Martin. This movie was clearly intended to shock and titillate the viewer, but it's so dated and silly
and badly acted, that now it just confuses and bored the viewer. This has to be seen to believed.