in

Crossfire (1947)
Director
: Edward Dmytryk
Writers
: John Paxton (screenplay), Richard Brooks (novel)
Cast
: Robert Young, Robert Mitchum, Robert Ryan, Gloria Grahame, Sam Levine
Genre
: Crime Detective Drama, Film-Noir
A man is murdered for no apparent reason. The only suspects are a group of off duty soldiers who met the man in a bar. In his hotel room a detective finds one of the soldiers wallet. But his fellow soldiers believe he's incapable of murder and try to get answers before it's too late. CR


1947 was a hallmark year for socially conscious anti-bigotry films. Besides the fore mentioned
Crossfire
, there was also the Gregory Peck vehicle
Gentlemen's Agreement
. Both films were Oscar nominated but only the later took home any awards.
Crossfire
for all it's critical acclaim and five Academy Award nominations, came up empty handed.
The movie was based on Richard Brooks' 1945 novel
The Brick Foxhole
. The novel dealt with the bigoted killing of a homosexual soldier by his fellow soldiers. For the movie it was changed to anti semantic bigotry as the studio knew that any depiction of homosexuality would not get past the 'Hays' Production Code censors.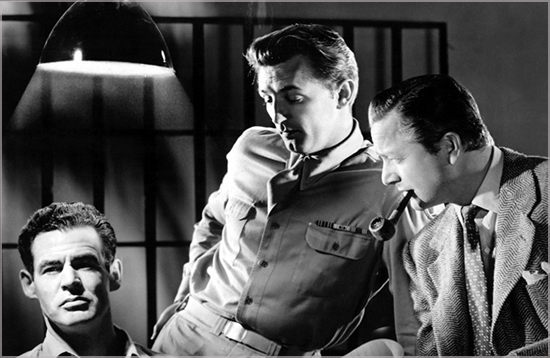 The three Robert's movie! The title card has the three lead actors names listed together: Robert Ryan, Robert Mitchum, Robert Young.


Crossfire
is in the canon of must see film noirs...and I wouldn't dispute that, mainly for it's historical film importance. It plays out more like a detective movie with a murder and uses flashbacks to tell the story of how the man (Sam Levine) was murdered. Quickly we're introduced to a loud mouth, belligerent jerk (Robert Ryan) and to the calm, pipe smoking detective (Robert Young) who uses his brain and not his gun to solve the case. In the course of investigation, Keeley (Robert Mitchum) another solider is held for questioning. As the film progresses and an alibi is sought, we're introduced to a hard nosed, jaded B girl played by the queen of B girls Gloria Grahame.
'Ginny' (Gloria Grahame) is questioned by the head detective (Robert Young).
So this all sounds like a making of a great film, but I found the movie rather dull at times. There's no goose bump moments, no amazing scenes and while the actors were up to par the script doesn't allow them to shine much. With the exception of the maniacal Robert Ryan character, who oozes sociopathic badness.
Robert Mitchum hated making the film, later claiming that any American actor could have played Keeley.
However Gloria Grahame considered Ginny to be her favorite role that she had played. I liked Gloria here, but her screen time is very limited and she doesn't get to do to much. Oddly I found her to look very different in
Crossfire
than she usually did. Perhaps it's the long light blonde hair? She usually had short dark blonde hair.
Crossfire has one of the all time great taglines: 'Hate Is Like A Loaded Gun'