in
Home Alone
Directed By: Chris Columbus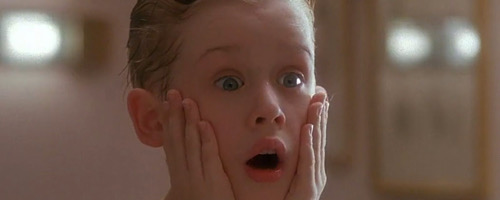 The Story
Home Alone is one of my favourites movies out there. It made my top 50 favourites thread alongside Home Alone 2 and for damn good reason - there so much fun. Sure there silly, and the story is a little far fetched, but it's lots of fun and it has some hilarious moments. It's a christmas movie like no other, and I don't think i have ever seen a movie were the bad guy's take so much of a beating and keep coming back.
Movie Trivia;
Joe Pesci deliberately avoided Macaulay Culkin on-set, because he wanted Culkin to think he was mean.
Catherine O'Hara revealed in 2014, that Macaulay Culkin still calls her "Mom".
The picture Kevin finds of Buzz's girlfriend was a picture of a boy made up to look like a girl, because Director Chris Columbus thought it would be too cruel to make fun of a girl like that. The boy that was used in the photo was the Art Director's son.
John Candy shared all of his screentime with Catherine O'Hara. The two previously worked together on SCTV (1976), and were good friends. Candy passed away on O'Hara's 40th birthday, and O'Hara gave a tearful eulogy at his funeral.
Joe Pesci kept forgetting that he was filming a family movie during his character's on-screen outbursts, so Chris Columbus advised him to say "fridge" instead of the "f" word.
The movie that Kevin watches on video tape is not a real film, but footage specially created. It was called "Angels With Filthy Souls". Along with other similar era references in the movie, this is a play upon the movie Angels with Dirty Faces (1938) starring James Cagney.
The Cast
The cast truly are awesome. Macaulay Culkin was fantastic. He was at such a young age when this movie was released, and it's crazy to think he was the star of the show. Joe Pesci and Daniel Stern added so much humour to the movie, and have to be the most likeable bad guys in movie history, they are fantastic together, they were a brilliant double act.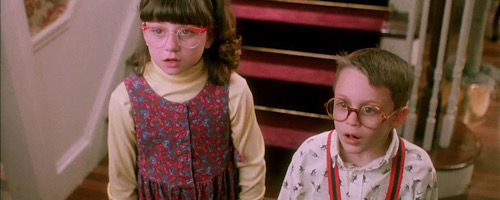 Movie Highlight
As with all the Home Alone movies the ending is definitely the highlight of the movie. It's brilliant watching two grown men falling for some of the craziest traps put together by a genius 8 year old boy. It's so much fun and so entertaining to watch.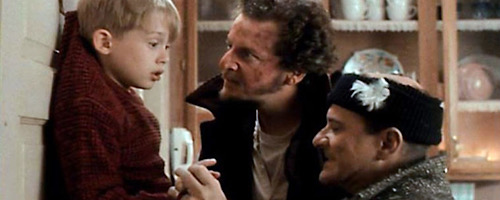 My Verdict
If you can look past the darkness of child neglect and house burglary's over christmas then there's a very funny film here.... just kidding. Home Alone is a great family movie, especially watching it this time of year. Now time to watch Home Alone 2.