in
Annie Hall
(Woody Allen, 1977)
Director
: Woody Allen
Writers
: Woody Allen, Marshall Brickman
Cast
: Woody Allen, Diane Keaton, Tony Roberts
Genre
: Comedy Romance

About
: A neurotic New York intellectual, comedian Alvy Singer (Woody Allen) meets and falls in love with a ditzy, aspiring singer, Annie Hall (Diane Keaton).
Review
: I really liked this, even more than I thought I would. Once I had said,
'I didn't like Woody Allen
movies',
and I was challenged to watch a few more of his films....And I'm still watching his movies!
What I found is: most of his films revolve around the
Woody persona....
which is a reoccurring character in his films. Personally, I like it when Woody is in the movie as no one can play Woody like Woody can!

There are three things
I really appreciate about
Annie Hall
.
The dialogue
, wow! it's clever, it flows...Woody is witty with his biting comments and self deprecating humor. I feel like I'm on the streets of New York ease dropping on Woody as he lives his conflicted life. The movie is jam packed with funny-witty lines that flow quick and easy....I wonder if Woody in real life talks like this, it sounded like real dialogue to me.
One of my favorite scenes was the standing in line for a movie, with a know-it-all movie critic spouting off. It's totally funny and believable what Woody tells Annie. I even like how he steps out of line and breaks the fourth wall.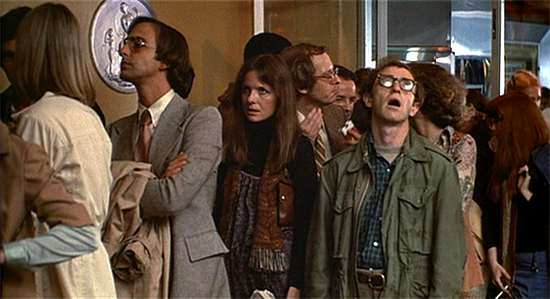 The fourth wall
,
Annie Hall
goes where not many films had gone before in 1977...while staying in character Woody as Alvy Singer talks directly to us. He even comments on his younger self in the hilarious school room scene.

Pacing
, Woody gets pacing right, he never rushes us, never spoon feeds us emotions. There's no heavy handed music score to cue our heart strings, no fancy camera work to wow us...and yet he's a genius with a camera, as he makes us feel like a fly on the wall. His movies look real because he has a naturalistic style of film making.

Annie Hall
, gives us a voyeuristic view of Woody's strange life. The scenes of his past relationships, (Carol Kane, Shelly Duvall), the beginning and end of his life with Annie, and all points in between are fascinating...and fun to see.