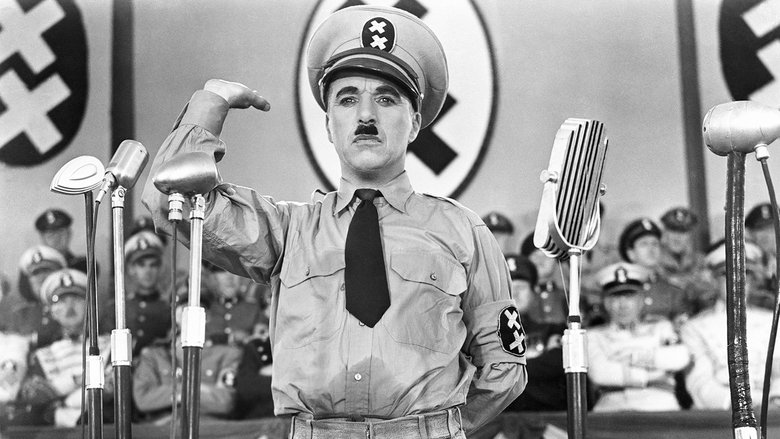 in
Director:
Charlie Chaplin
Genre:
Comedy, Drama and War
Year:
1940
Time:
125min
Main Cast:
Charlie Chaplin, Jack Oakie, Paulette Goddard
Summary:
It's about Adenoyd Hynkel on one hand, trying to conquer and enlarge his empire and on the other hand a Jewish barber who tries to stay out of trouble during the regime.
Review
I'm a huge fan of Mr. Chaplin, having writen and directed such masterpieces like Modern Times, City Lights, The Kid and many more, Chaplin has in The Great Dictator something new. After the silent era, this is his first all-talk and all-sound movie and for my surprise, it's as good as the silent ones. It was nominated for 5 Oscars, including Best Picture, Best Actor in a Leading Role, Best Actor in a Supporting Role, Best Writing, Original Screenplay and Best Music, Original Score, not winning any of them.
This movie was exactly what I expected, having seen other movies from Chaplin you get to a point where you expect certain things to happen and you know you're going to love them. There are several features that I enjoyed in this movie. First of all, like I said before, It was his first all-talk movie which resulted in a big element of surprise to hear the Tramp's voice. Second of all, the courage it took to release this type of movie in 1940, right after WWII where dictatorship reign over everything and where people like Adolf Hitler, Napoleon Bonaparte and Benito Mussolini where the owners of the world.
It makes a mockery of this craving-power politics while still showing the persecution of the Jews by the storm troopers, gracefully moving from one character to the other, where both main characters have plots of their own, allowing us to laugh with the Jewish Barber, making it a lovable character, feeling sorry for all he's been through and laugh at Adenoyd Hynkel for everything he does, he does it in a clumsy and bumbling way, making him look like a fool several times.
What sold me for good was that speech, best speech I've ever seen in a movie, made in 1940 and still so modern and current. It puts every emotion you have ever felt during the movie, puts them together in a blender and BAM, that's how I felt. Amazed, surprised, sad and anger about the state of the world but happy for the reserve of the situation. It's the perfect ending of this political and historical satire.
We feel too little and think too much.