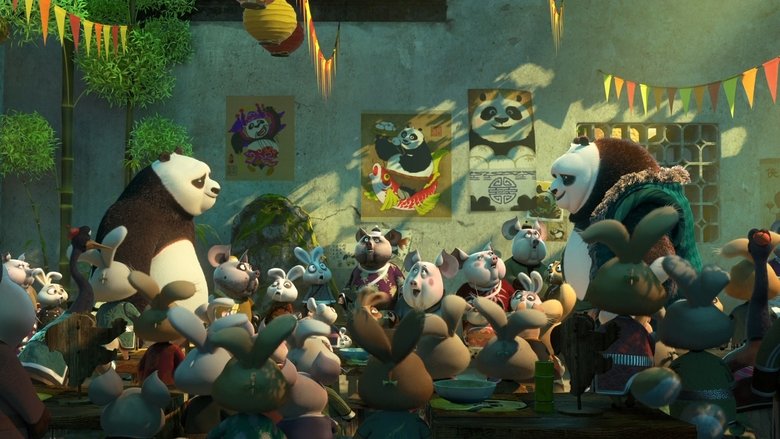 in
Kung Fu Panda 3 (2016)
Summary
A fun film I will probably never see again. I've certainly seen worse movies for kids. There's some laughter for adults, some excitement, and feel-good moments. Ultimately, it's for the kids.
Was it any good?
Yes, it was good. It was better than I expected. I won't be seeing it again, but it was fine for a single viewing. The kids will love it, and might ask to see it again.
Who was in it?
Jack Black, Bryan Cranston, Dustin Hoffman, Angelina Jolie, J.K. Simmons, Jackie Chan, Seth Rogen, Lucy Liu, David Cross, Kate Hudson, James Hong, Randall Duk Kim, and Wayne Knight (voices, all)

Should I see it on the big screen or should I wait to rent it?
If your kids can possibly wait that long, see it on video on somebody's 3D tv. If they can't wait, by all means take them to the theater. And, why'd you ask?
Should I see it one of the premium formats?
I saw it in 3D, but only because the time slot fit my schedule. $12.50 for a matinee is still a bit steep. I would have gone to the standard, if I could. That said, the 3D effects were quite good. The scenes in the "spirit world" had a lot of depth. Many of the action scenes had one or more splits, showing different angles or characters in each "pane." In 3D, this had the effect of looking out different windows at different pieces of the action. I'm a fan of 3D, anyway. That's why I recommend seeing it on video and on a 3D tv.
If you're taking the whole clan to a 3D showing at the theater, that could get spendy fast. Although cool, it's not worth the price of admission. The kids won't care, anyway. They're lucky you changed out of your moomoo, put on shoes, and took them out of the house! And that's not sexist, men can wear moomoo's, too.
Review
Did I even see Kung Fu Panda 2? What was it about? If I did, it certainly wasn't very memorable. That bring us to "Yet Another Sequel" in Kung Fu Panda 3. My expectations were set low. And yet, there were a couple funny bits in the trailer. Were they the only funny bits?
Gamble and win, folks. Those were not the only funny bits in this film. Not only were the trailer bits still funny, but there were more funny bits included. That and they were sprinkled throughout the entire film. So, amusement box? Checked.
If anything, the movie didn't take itself seriously enough. There were parts where suspense was building… and then a joke lets the air out of your balloon. The kids will have plenty of, "do you remember when….?" moments.
At the end of the day, this is a movie for kids. They'll want to see it, and they'll enjoy it. Luckily, you won't have to suffer through it. It's no Mariah Carey Christmas Special or This Thing That Fell Out of a Unicorn Butt. Hey, I just said "thing." It was amusing enough to make it a decent viewing for the token adult. I only gave it 3.5 stars instead of 4 because I don't think I'll watch it again (unless it falls into the "children favorite" category and it is my solemn duty to watch it again). Hey, I just said "children."
The voice actors did a good job. I had forgotten all the big stars who lent their voices to this one. Wow. I wonder how much it cost to assemble that team?
I want to mention the music. When the bad guy is on screen, they play the same theme. It is a mildly racist Old West/Chinese Ping Pong mashup. The kids won't notice, but it was odd. There is also a big finish dance party played to, "Kung Fu Fighting." Is that song going to make a comeback?
A final bit is one of the previews before the movie. It is a short that advertises the next Ice Age movie. There is a shortened version that is shown here. The longer one is below: You're welcome.
Can I take my kids?
I didn't notice any language. The only violence was of the kung fu variety. You may be in danger of the kids tearing up the house for a few days as they act out the film, but there was no blood. Totally a green light. View it up, y'all.
PG | 95 min | Animation, Action, Adventure, Family | 29 January 2016 (USA)