in
Young Frankenstein (1974)


Director
: Mel Brooks
Writers
: Gene Wilder, Mel Brooks
Cast
: Gene Wilder, Madeline Kahn, Marty Feldman, Terri Garr, Peter Boyle, Cloris Leachman
Genre
: Comedy
Dr. Frankenstein (Gene Wilder) is the modern day American grandson of the infamous scientist who created the original 'Frankenstein's monster'. In an attempt to prove that his ideas are not crazy, young Dr. Frankenstein travels to his ancestral home and takes up residents in the old family castle. There he discovers his grandfathers recipe for reanimating the dead.
I loved the look of this film, there were many nods to the film making of the early 1930s. Of course the most visible 30s retro look is Mel Brooks' decision to shoot in glorious black & white. I love black & white for a subject like this one. With all of the extraneous colors stripped out we're left with form, texture and shadows. The film becomes dream like and the lighting can readily show the texture of the old castle's bricks or the frazzled hair of Dr Frankenstein after he has emerged from the act of creation. Black & White allows side and back lighting to work to greater effect...it makes the movie great.
Another nod to the serials and matinee films of the 1930s was the scene transition wipes. The wipes come when one scene ends and another begins. There are all sorts of cool scene wipes used: diagonal wipes, shrink to a hole-then expand back to full screen wipes, rotating wipes. Very cool! and it shows how much care was put into this film to make it look like an authentic early 30s film.
Many of the same electronic lab equipment that was used in the original
Frankenstein
film was used in
Young Frankenstein
.
Wow! does Gene Wilder deliver some of the most dramatic dialogue ever! The man is a master of diction! I wish we had a time machine and could send Gene Wilder back to play Dr. Frankenstein in the original 1930s movie. My gawd! can you image how much more powerful that film had been with Gene Wilder belting out
He's alive
!
And how about Marty Feldman, he has to be one of the most memorable character actors to grace the screen as Eyegur. With stellar performances being turned in by Madeline Kahn and Cloris Leachman too.
And let's not forget the adorably cute, Terri Garr!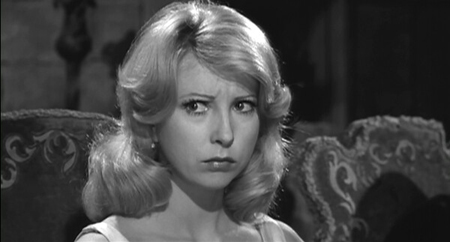 This is Mel Brooks and Gene Wilder at their best.
+