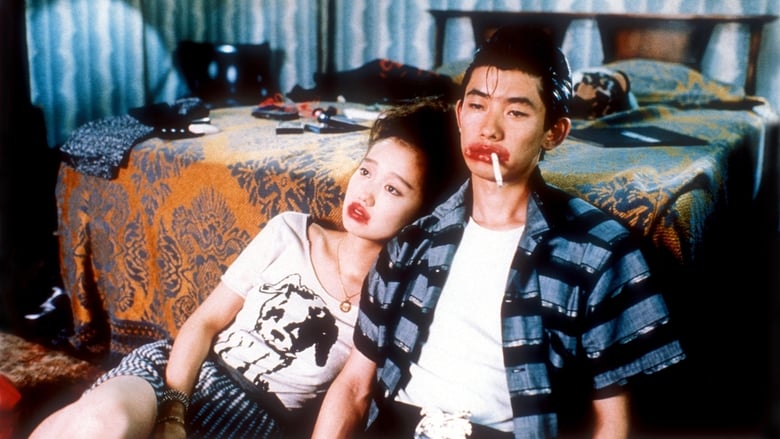 in
Mystery Train
(1989)
Director: Jim Jarmusch
Writer:Jim Jarmusch
Mystery Train
is a small indie film set in a run down area of Memphis, Tennessee. Director & Writer, Jim Jarmuschshows us a slice of life by telling three separate stories of foreign travelers to Memphis. The events take place over a 24 hour period with all three stories having a commonality: the seedy Memphis Hotel.
Shot on location, the viewer is treated to a rarely seen side of the forgotten back streets of Memphis. The cinematography is semi documentary style with some amazing footage of urban decay. In one impressive shot there's a vacant lot on a desolate street...in the distance is the gleaming skyscrapers of downtown Memphis.
Segment:
Far From Yokohama
Cast: Masatoshi Nagase, Yûki Kudô
This was my favorite segment. A young Japanese couple who are obsessed with Elvis and 1950s music, travel by train to Memphis on a pilgrimage to see Graceland. The script is fresh and we see American culture though their young eyes. The girl is very animated and bubbly, she's enamored with Elvis. In sharp contrast is her stoic boyfriend, who's quiet and jaded and just to cool to care. They speak in Japanese so there's English subtitles for most of this segment. Their story gives the viewer insight into how the teen couple far from Japan views the Memphis landscape and the locals there. I rate this segment 5/5
Segment:
A Ghost
Cast: Nicoletta Braschi, Elizabeth Bracco
An Italian woman traveling in Memphis has to contend with schemers and tales of Elvis's ghost. Finally she encounters a ditzy, talkative woman who has just broken up with her British boyfriend and is in need of a hotel room, but has now money. This was my lest favorite of the three, still it's interesting. I rate this segment 3.5/5
Segment:
Lost In Space
Cast: Joe Strummer, Rick Aviles, Steve Buscemi
Joe Strummer of the band
The Clash
is a Brit working in Memphis. He's got a temper and gets mad when people call him Elvis. Which they do all the time, thanks to his hair style. His girlfriend from the second segment has left him and he ends up drunk in a bar and packing a gun. Things go from bad to worse for him and his friends. I rate this segment 4/5
Memphis Hotel
Cast: Screamin'Jay Hawkins, Cinqué Lee
Not actually a segment but the glue that holds the other segments together. We never really learn much about these two men who work the front desk at the Memphis Hotel. Their characters are intriguing and we see that they have a back story but we never found out what it is exactly.
Mystery Train
is an undiscovered gem. The director & writer Jim Jarmusch deserves praise for making such and interestingly fresh film that's a treat to watch.