Okay, so I totally forgot that I made up this forum 'trivia game' a few years ago that was a total blast and it just occurred to me that I'm on "Movie Forums". The hell was I thinking? Let's do this!
Okay, so here's the premise:
Post a picture of a character from a movie, tv show, video game, book, or comic, and briefly describe how you think they could kick the ass of the character above you. The funnier and more relevant the description, the better (bonus points for taking advantage of their
one weakness
)!
Last character standing wins!

RULES:
(These exist for the quality and sustainability of the thread, so please follow them.)
1.)
You must UPLOAD an image of your character.
Use the Manage Attachments button in Edit Post to upload your images. This rule exists to prevent broken image links.
2.)
The image must be an actual SCREENSHOT OR OFFICIAL CANON ART of your character.
No fan art please, we want to see the true character in question.
3.)
Your image must be accompanied by the NAME of your character and the name of their SOURCE MATERIAL in parentheses.
This is so people know what you're talking about.
4.)
Your image and name must be accompanied by A SHORT DESCRIPTION of how they DEFEAT the previous character.
They can be killed, humiliated, beaten at their own game, or karate chopped through the fourth wall. Descriptions exploiting knowledge of the defeated character are strongly preferred since they tend to be funnier (
Santa
defeats
Al Bundy
with Christmas cheer for example).
5.)
You CANNOT choose a character that has ALREADY BEEN CHOSEN.
This includes characters that are typically present in factions that have already been chosen (you cannot choose
Dr. Peter Venkman
if
Ghostbusters
has already been chosen).
5.)
You may choose a SINGLE UNIQUE character, a SMALL FACTION of SIMILAR characters, or LARGE FACTION of IDENTICAL characters.
The Ghostbusters
or
Power Rangers
would be acceptable, but
The Justice League
or
The Avengers
would not. Large armies of faceless henchmen are acceptable as a single character.
6.)
You may choose only ONE VERSION of any character.
This includes spin-offs/remakes/reboots of the same character. You cannot choose
Anakin Skywalker
if
Darth Vader
has already been chosen, however you can choose multiple personas if they're portrayed by different characters, for example:
Bruce Wayne as Batman
and
Dick Grayson as Batman
(please specify their respective source material). Magic doppelgangers also count towards the original character.
7.)
You can choose REAL PEOPLE whether they play themselves, appear unintentionally, or are played by someone else.
This includes
Jerry Seinfeld
from
Seinfeld
, but it also includes every historical figure who appears in
Bill & Ted's Excellent Adventure
.
8.)
No one can choose MISTER ROGERS from Mister Rogers' Neighborhood.
Yes, that is actually a rule.
IF YOU DON'T LIKE THE RULES, DON'T PLAY.
If that's all cleared up
then let's do this!
PM me if you have any questions.
Now... who to start with... typically this begins with me posting classic cannon fodder, usually a
Goomba
, but since this is
Movie Forums
...
>>> FIGHT!! <<<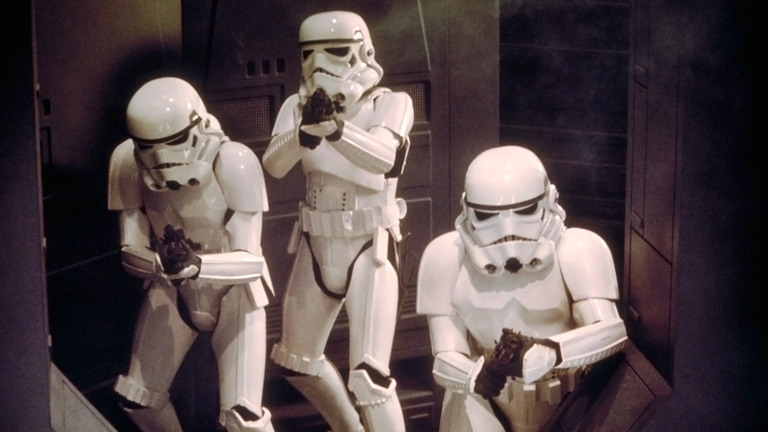 Stormtroopers (Star Wars)
A legion of panicked stormtroopers fire their blasters erratically down a vacant hallway in a vain attempt to delay their inevitable demise.
Last edited by Omnizoa; 01-24-16 at

01:33 AM

.