The King of Movies
For latest reviews go to last page
Captivity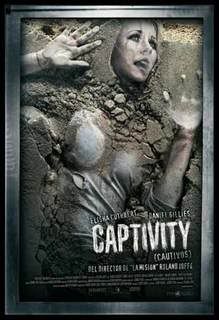 Captivity staring Elisha Cuthbert, is pretty much the crappy verson of Saw. I can pretty much sum up the plot in about 7 words: Girl gets kidnapped has to get free. It's that simple. I pretty much hated this cheap exuse for a horror/thriller film. There is a couple of twists but thats about it. So if you are in the mood for a Saw-like movie either watch a Saw movie or get Vacancy.
Don't fall for the cool promo poster, i give this movie 1 star out of 5.
Indiana Jones and the Raiders of the Lost Ark.
Believe it or not but this was the first time i have ever seen Raiders. Now i actually was not expecting much and at times i got bored but overall this is a pretty good adventure film. My fav bit was when Indy was going to have a fight with that massive sword fighter guy and Indy just shot him. Classic. For my generation the CGI was a bit lame but i think back when this was made that this movie was a head of its time. One question i have about this movie is, is what was the point of the start when he was in South America and the famouse boulder scene happend??? I guess i just have to watch Temple of Doom and it will make sense.
Over all not the best movie i have ever seen but still it was fun, i give it 3 out of 5 stars.
Godzilla (1998)
DAM, i love this movie!!!!! It was on SCI-FI today and i decided to watch it. This movie along with Jurrasic Park would be my official childhood movies. I still can not get over how much i love this movie. I don't know what it is, but IMO this movie is a classic. The CGI might be a little bad but thats all i have to criticsise this movie about. I think if you are in the mood for some mindless action with some plot let Godzilla be it. By far the best flick in series, i think it was the best film of 1998.
I give it 4 and a half stars out of 5.
Last edited by king_of_movies_316; 02-16-09 at

04:52 PM

.